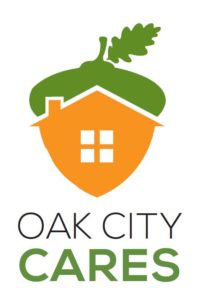 Oak City Cares will enter 2019 with great momentum and support for the Oak City Cares campaign, thanks to the successful completion of a $250,000 Gipson Challenge. Oak City Cares, a collaboration between Wake County, the City of Raleigh, the Raleigh / Wake Partnership to End and Prevent Homeless, and Catholic Charities is planning to open in April 2019.
When open, Oak City Cares will serve as a multi-services hub for individuals and families experiencing homelessness offering coordinated services provided by multiple agencies and partners. Each person who comes through the door of this downtown location will receive compassionate care and professional assistance, finding connections to what they need all under one roof. With the opening date drawing near, Tom and Pat Gipson saw an opportunity to leverage their donation to inspire others to support this effort to make homelessness in Wake County rare, brief, and non-recurring.
"This challenge came at the exactly the right time and provided incredible momentum for our efforts to raise the funds needed to open and operate Oak City Cares this spring," shared Mrs. Kathy Johnson, Executive Director of Oak City Cares. "Tom and Pat wanted to help Oak City Cares raise critical operating funds needed to open the Center and this was the perfect way to accomplish that."
The Gipson Challenge began in October and ran through December 15th. The Gipson Family Foundation agreed to match all donations dollar for dollar up to $25,000. As a result of the challenge, $528,000 was raised for Oak City Cares.
"We are thrilled by the success of this challenge," said Mr. Charles Meeker, Co-Chair of the Oak City Cares Steering Committee. "It is great to see such strong support from our neighbors for this program."
"Seeing the success of this challenge sets us up well to start off the new year strong as we finish raising the money to support operations," said Mrs. Trish Healy, Co-Chair of the Oak City Cares Steering Committee. "Over halfway to the finish, the oversubscribed match indicates just how much the citizens of this area care."
Funds from the Oak City Cares campaign will be used to purchase furnishings and equipment for the facility, as well as provide for three years of operating expenses. Fundraising for the campaign will continue into the new year as Honorary Campaign Co-Chairs, Mr. Ron Doggett and Mrs. Barbara Goodmon, provide leadership in achieving the overall goal of $2.5 million.
For more information about Oak City Cares or to donate, please visit www.OakCityCares.org.