For many families, the holidays are a season filled with good tidings and cheer. But for others, the holidays can be a time of anxiety, unhappiness, and a mix of other emotions when they're unable to provide gifts for their families. In the spirit of the season, Catholic Charities organizes the Wrapped with Love Christmas Program to assist families.
The offices hosting Wrapped with Love Christmas programs are listed below. Individuals interested in accessing or supporting their local program are encouraged to visit the Wrapped with Love program page for their local office.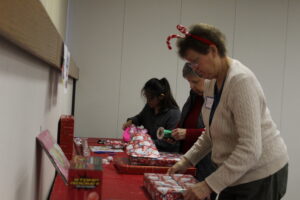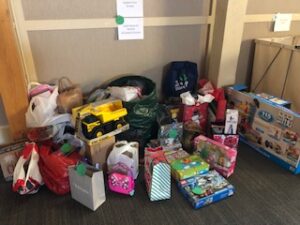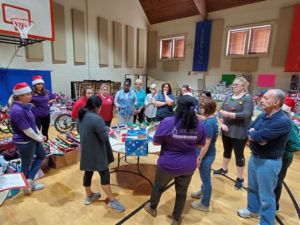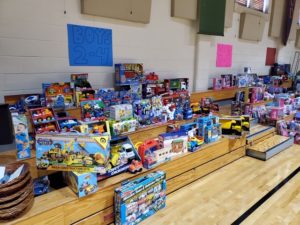 The Catholic Charities Wrapped with Love Program is available in the following offices. Please click on the office locations to learn more about the program in that location.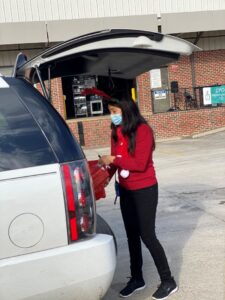 At the Catholic Charities offices of the Raleigh, Cape Fear and Tar River Regions, staff and volunteers worked tirelessly over the past few weeks to ensured that dozens of families are able to enjoy the holiday season, through the "Wrapped with Love" Christmas Program.
This year has been very difficult for many families. Sharing gifts, despite the new restrictions that limit the organization of large gathering of people in one place, would provide some much needed joy for families.
In Raleigh, at Centro para Familias Hispanas, the Wrapped with Love program saw inspiring success. On Saturday December 13th, staff organized a curbside pickup line in the parking lot to distribute donated gifts. Santa Claus walked past cars and spoke with the children, while volunteers distributed donuts to kids waiting to receive their gifts.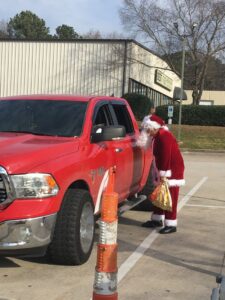 "Given that we received an outpouring of support from different companies, we were able to give more toys than what we originally planned, so even after Saturday, we are still giving toys away," commented Maty Ferrer Hoppmann, director of Centro para Familias Hispanas.
By the end of the day, staff and volunteers had distributed gifts to a total of 97 families and 209 children. This was made possible through the generosity of Healthy Blue, Edwards and Kirby Law Firm, The Science Safari Toy Store, St Francis of Assisi Church, individual donors.
Along the coast, the story wasn't very different. The Catholic Charities Cape Fear Regional Office shared in similar success this year with a team of volunteers and staff distributing gifts to over 220 children form 100 families.
Emilie Hart, Cape Fear regional director, explained that they had to organize and manage the program in a different way because of COVID-19.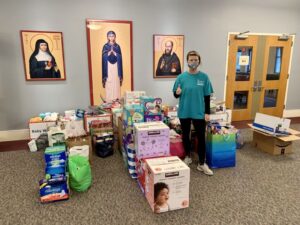 "Safety was our priority, without forgetting about the giving spirit of this season. We condensed our program in half in order to keep our staff, volunteers, and participating families safe," she said.
Participants received a gift bag for the whole family. Inside was a movie, puzzles, board games, reading books, activity books such as word search, coloring books, popcorn, snacks, a pizza gift card, and other gift cards to stores such as Walmart and Target.
Support for the Cape Fear office was an international affair with donations coming from individuals across country and Canada. This was made possible through a wish-list the office established to provide an online option for individuals to participate.
Locally, the following groups provided vital support for the success of the program. Local Catholic Churches including: St.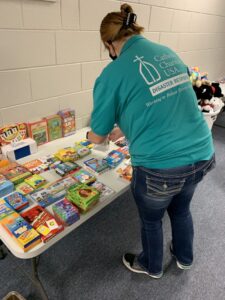 Therese in Wrightsville Beach, Immaculate Conception Wilmington, St. Stanislaus in Castle Hayne, Sacred Heart Southport, and St. Joseph the Worker in Burgaw. Support also came from St. Andrews Convenant-Presybterian Church, the N2Publishing company and individuals and families who adopted/sponsored certain families.