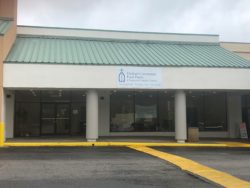 Address
2020 Chapel Hill Rd., Suite 30
919-286-1964
919-286-4001 (Fax)
Hours
Wednesday: 10:00am – 1:00pm & 5:00pm – 7:00pm
Thursday: 10:00am – 1:00pm
(Additional Dates will be added throughout the summer and fall)
"The measure of the greatness of a society is found in the way it treats those most in need, those who have nothing apart from their poverty."
– Pope Francis
The Durham Community Food Pantry, a program of Catholic Charities of the Diocese of Raleigh, works to end food insecurity in Durham and Orange counties. The facility replicates the service model developed over 40 years at Catholic Parish Outreach Food Pantry in Raleigh. The program is a collaborative effort engaging multiple partners through Durham and Orange counties to address this incredibly important need.
Due to COVID-19, all volunteers:
Must provide their own masks before volunteering. Please contact the volunteer coordinator for more information or questions.

Must complete all COVID-19 Safety Related Trainings and complete the Informed Consent Documnet. Click here to view the trainings.
Food Pantry Assistance:
Available Shifts: Tuesday mornings as well as distribution days.
Responsibilities:
Stock shelves, sort fresh produce, pack allotment boxes
Receive, weigh, and store canned, boxed, and refrigerated/frozen food.
May require light, medium and heavy-duty tasks including lifting boxes of various weights, operating pallet jacks, working in chilled areas, depending on task.
Loading food boxes into client vehicles curbside/outside (requires medium to heavy lifting).
Interviewer:
Available Shifts: All distribution days.
Responsibilities:
Interview clients, complete data entry and record keeping through our database by way of tablets.
Interviews are done curbside, from driver's window of client vehicle.
Spanish language skills are a plus, but not required.
Food Drives

Interested in your parish or organization holding a food drive? Contact the Assistant Director at Cameron.Morgan@Ccharities.Org or 919-286-1964 for more information!

Food Donations

Food donations can be dropped off at our location from Monday-Thursday, 9:00am-2:00pm.

Donate to DCFP