St. Michael's SHARES Ministry
(Serving Hope, Assistance, Resources and Emergency Support)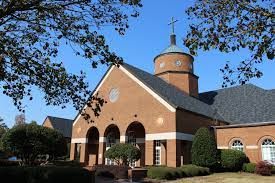 ABOUT
The St. Michael's SHARES ministry is a parish based program with a full time Family Case Manager who will help families achieve, or move closer to, self-sufficiency and more stable lives as part of the Catholic Charities Family Advancement Services Program.
The focus of the SHARES ministry will be improving the economic sustainability of families. Through this program, individuals work with staff to improve their economic mobility and maintain a stable living situation. Examples of ways that staff work with clients include, but are not limited to: providing financial literacy courses, guiding individuals through the employment search process, assisting in establishing personal budget goals, and accessing public benefits (SNAP, child care etc.).
St. Michael's SHARES is a ministry offered through the support of Centro para Familias Hispanas.
Hours
Monday – Thursday: 9 a.m. – 5 p.m.
Friday: 9 a.m. – 2:30 p.m.
Address
St. Michael Catholic Church
Trinity Center
804 High House Road
Cary, NC 27513
CONTACT US
FAMILY CASE MANAGER