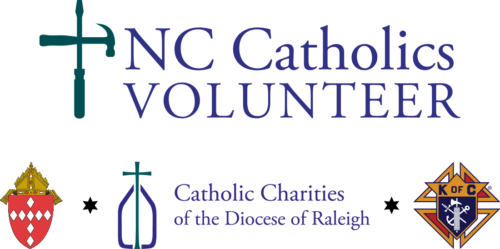 Can you paint and swing a hammer?
Or are you interested in learning these skills and more?
All experience levels are encouraged to serve!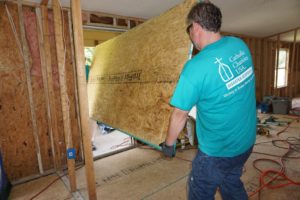 NC Catholics Volunteer was founded in 2016, in the wake of Hurricane Matthew, in the Tar River Region. In partnership with the North Carolina Conference of the United Methodist Church, we were able to provide help to survivors and assist them in returning home. The NC Catholics Volunteer program strives to repair, rebuild, and make homes safe for families.
Following Hurricane Florence in 2018, the Cape Fear Regional Office began partnering with the Wilmington Area Rebuilding Ministry to assist survivors. In early 2022, a Catholic Charities Construction Manager was hired, allowing for continued growth of the program.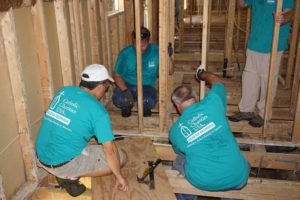 The NC Catholics Volunteer program also supported recovery efforts on the Outer Banks following Hurricane Dorian. Volunteers participated in a week-long trip to assist with gutting & mucking homes, as well as starting the rebuild process for many survivors.
Location:

Brunswick, Bladen, Columbus, Duplin, New Hanover, or Pender counties.
Exact location will be determined closer to the event date.
*Volunteer opportunities during the week are also available. For more information about this opportunity, please contact Vickie, Disaster Specialist, at Vickie.Sasser@ccharitiesdor.org or by phone at 910-251-8130 Ext. 2706.
Project Details
Volunteers will be asked to register with Catholic Charities of the Diocese of Raleigh by filling out a NC Catholics Volunteer application.
To help ensure everyone's safety during COVID-19:

Volunteer groups are kept to 10 individuals or under
Masks are required to be worn by volunteers when within 6 ft of each other in an enclosed area. Masks would also be required when performing any task that has potential exposure to mold or other small particulates.

Attire

Closed toe shoes are mandatory.
Please wear clothing you are comfortable getting dirty and/or stained.

Projects may include (but are not limited to) gutting of home, mold remediation, removing flooring, replacing flooring, building walls, installing drywall, replacing bathroom fixtures, replacing cabinetry, building steps, and replacing porches.

All projects will be determined the week of the project and volunteers will be given details and site location prior to the event date.

Individuals under 18 must be accompanied by a parent. Minimum age to participate is 13.
Individuals must be comfortable working in a construction site.
If you have any questions, please email Vickie.Sasser@ccharitiesdor.org.