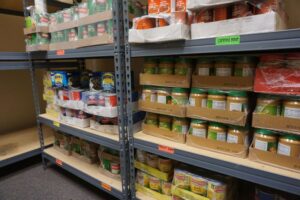 Hunger in our communities is an issue that far too many families are experiencing. A lack of nutritious meals can have long lasting effects on the physical, mental, and social well-being of all members of a family.
Catholic Charities Food Pantry Services are dedicated to providing healthy meals, increasing access to food, and developing innovative solutions to address food insecurity in a collaborative way.
With dignity and respect at the forefront of all interactions, families are offered a hand up during their most challenging times. In addition to feeding our neighbors, Catholic Charities Food Pantry Services serve as a medium for volunteerism, community engagement, and collaboration.
We provide healthy foods and nutritional awareness to our communities.  Individuals and families can access our food pantry once every 30 days and will be provided referrals to other community food banks.  Families seeking assistance with food will also be screened for other needs which Catholic Charities can either address, or make a referral to a community partner.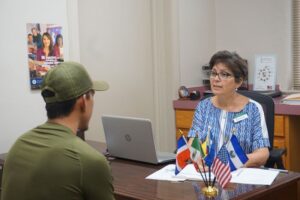 For over 25 years, the Catholic Charities Immigration Legal Services have assisted families in completing various immigration related processes.
Individuals and families who qualify meet with Catholic Charities immigration staff who are accredited by the Department of Justice. Through one-on-one meetings, staff provide education on the immigration process and assist in the completion and submission of applications with the United States Citizenship and Immigration Services (USCIS) and the Department of Homeland Security (DHS).
Para Español
Services
The services below are provided at a minimum cost. Services and appointments will be conducted by phone, email or virtually only with limited in person appointments.
Family Petitions
Adjustment of Status
Temporarily Protected Status (TPS)
Consular Processing
U-Visas (For Victims of serious crimes)
VAWA (For victims of domestic violence)
Work Permits
Deferred Action for Childhood Arrivals (DACA) Renewals

USCIS strongly encourages you to submit your DACA Renewal request 

between 150 days and 120 days

 before the expiration date located on your current Form I-797 (Work Authorization Card).
---
Consultation Payment & Online Intake
Catholic Charities offers the ability for potential immigration clients to complete their intake online. Steps to complete the online intake:
Use the link below to pay the $50 consultation fee.
Following payment, you will be directed to the online intake which you will complete and submit.
Once your information is entered, one of our Immigration Accredited Representatives will contact you to evaluate your case and make an appointment with you.
Before you continue, please review the following questions:
Are you seeking Political Asylum?
Do you have a court date pending, and need representation?
Do you reside outside the state of North Carolina?
Do you have a criminal record, felony, significant misdemeanors or three or more non-significant misdemeanors?
If you answer "Yes"
to one or more of these questions,
DO NOT proceed
, Catholic Charities will not be able to assist you in your case.
---
Online Payment
Individuals who are established clients have the ability to pay their Catholic Charities related fees online. Use the link below to access the payment page.
Catholic Charities recognizes the imbalances in access, opportunities, and resources that exist within our immigrant community. Immigration Legal Services are structured to attract all immigrants regardless of place of origin, culture, religion, or economic status. The goal is to provide help and create hope for immigrants as they establish their lives in the United States