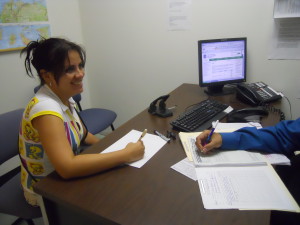 Citizenship
The Catholic Charities Legal Immigration Services program assists qualified legal permanent residents through the process of applying for citizenship. The program offers workshops to provide information about the process, and individual appointments to help individuals complete and review their application.
Basic requirements to apply for Citizenship:
Be an LPR (Lawful Permanent Resident, i.e., green card holder)

Be 18 years of age or older.

Be a resident continuously for five years, subsequent to LPR status. If married to a U.S. citizen (USC), the residency requirement is only three years.

Be of good moral character.

Have resided in the state or USCIS district where the application is filed for at least three months.

Be physically present in the U.S. for at least half of the five years (or half of the three years, in a case where the spouse is a USC).

Not be absent from the U.S. for a continuous period of more than one year during the period for which continuous residence is required. For the spouse of a USC, not be absent for more than two years and one day.

Have knowledge of the English language and ability to answer basic questions on U.S. history and government.
In order to know what options are available to you and obtain specific advice based upon the facts of your case, call your nearest office for an appointment and consultation. Individuals can also visit Citizenship Works for Frequently Asked Questions and Answers.
Fee Waiver:
Applicants who can demonstrate a financial hardship can apply for a fee waiver for both the Catholic Charities and USCIS immigration fees.
Free Citizenship Classes
Wake Tech Community College: rmhoffabdelilah@waketech.edu or 919-334-1509
Craven Literacy Council, New Bern: info@cravenliteracy.org or 252-637-8079
Instepp Incorporate, Education Center, Durham: www.instepp.org or 919-680-8000
Alamance Community College: Stephania.Garzon@alamancecc.edu or 336-506-4380
Services
Available In:
Other Immigration Assistance
Shallotte
St. Brendan
Sr. Rosanne Caiazzo
BIA Accredited Representative
(910) 616-2105
Hours: M-TH
8:00am – 12:00pm
1:00pm – 3:00pm
F 8:00am – 12:00pm