Kathryn is a Jesuit Volunteer Corps (JVC) member who will complete her year long commitment  at Catholic Parish Outreach.  She reflects below on why she wanted to become a Jesuit Volunteer and what her time at Catholic Charities has meant to her so far.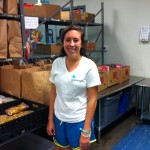 I graduated college six months ago and the day is still a blur in my mind.  A rainy day in Worcester, Massachusetts, I was anxious about the tearful goodbyes I had to make, I was nervous about leaving the familiarity of college life, and I was worried about moving to Raleigh, North Carolina.  Through this time of unease, one of my clearest memories is a line from our commencement speaker, Jon Favreau.  He encouraged my graduating class to "do something – something that interests [us]; something [we're] good at; something [our] guts are just begging [us] to try."  I'm excited to work for Catholic Charities because I know I am doing something rather than being something.
Working at Catholic Charities, I have the ability to make a difference in people's lives everyday.  When filling bags of groceries, I get to pick out the food that will be on our clients' tables, their meals for the week.  When bringing carts out to clients, I get to see the excitement in their eyes at the sight of a birthday cake for an upcoming celebration.  When interviewing clients, I get to inform them that we can help feed their family.  By providing direct services to clients, every staff member, intern, and volunteer at Catholic Charities has the opportunity to do something for others. I am so blessed to be a part of this organization and I look forward to the rest of my year here.
–        Kathryn