In July 2023, 54 children had the time of their lives at the Pequeños Gigantes Summer Camp organized by Centro para Familias Hispanas, a program of Catholic Charities. Packed with exciting activities such as karate, art, music, and outdoor playtime, this summer camp left an indelible mark on the children's lives. The week-long adventure culminated in a stage presentation that brought joy and pride to both the children and their parents.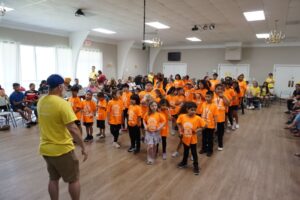 One of the highlights of the summer camp was the karate sessions, where the children learned discipline, self-defense, and the importance of physical fitness. Under the guidance of a skilled instructor, they honed their motor skills, improved their focus, and gained self-confidence. The karate sessions not only provided a fun physical activity but also instilled valuable life skills that the children can carry with them beyond the camp.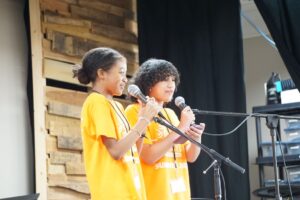 The camp also emphasized artistic expression, with engaging art projects and music classes. Through various activities, the children were able to explore their creativity and unleash their imaginations. They experimented with different techniques, colors, and mediums, producing summer camp masterpieces they proudly shared with their peers and parents. The music sessions allowed the children to tap into their rhythmic abilities, play different instruments, and learn new songs. It was heartwarming to witness the campers' enthusiasm as they discovered their artistic talents.
Summer is all about the great outdoors, and this camp ensured that the children had ample time for outdoor play and adventure. Campers participated in water play, relished in friendly competitions, and engaged in exciting group activities. They forged new friendships, developed teamwork skills, and learned the importance of fair play. These outdoor experiences allowed them to appreciate having fun in the sun and enjoy being carefree.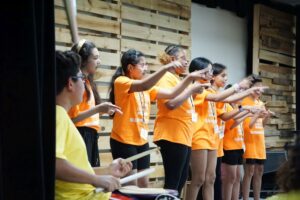 The grand finale of the summer camp was the much-anticipated stage presentation. After days of practice, the children showcased their newly acquired talents to an audience of proud parents and enthusiastic supporters. The stage came alive with karate demonstrations and musical performances. The children radiated confidence as they demonstrated their newfound skills, leaving the audience delighted. The end of the camp presentation not only celebrated the children's achievements but also served as a testament to their growth, perseverance, and the supportive community fostered by Centro para Familias Hispanas.
Program Director Maty Ferrer Hoppmann shared that the goal is for the campers "to feel loved, and that they will learn to love others, and respect others; and will grow in their faith, in God, in themselves and in others."
Thank you to New Hope Baptist Church for once again partnering with Centro para Familias Hispanas and providing the beautiful space to make this camp possible. Also a big thank you to the volunteers from St. Francis of Assisi who return year after year!
Hoppmann stated, "This summer camp impacts all of us, not just the children that come every year to participate in the camp. All of us volunteers, teachers, mentors… it is life changing for all of us. We become more generous, we become more aware of the needs in the community." Hoppmann continued, "And it just makes us want to keep doing it. And we just love it."
Hoppmann emphasized, "The name of it is Little Giants. Because that is what we believe they are, Little Giants. They are little now, but one day they will become giants!"