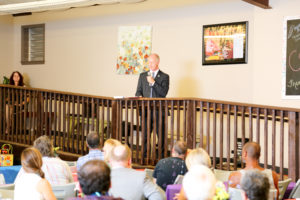 On Tuesday, June 30, 2015, Oak City Outreach Center (OCOC) in downtown Raleigh held a thank-you event for the supporters of the center, specifically the City of Raleigh and the partner agency food providers and volunteers. Local dignitaries, volunteers, donors, and all Raleigh Deanery priests were invited to the event.
The center, which provides three meals a day on Saturdays and Sundays, opened in June 2014. The need the center serves, though, goes back decades to when charity groups simply handed out food in Moore Square to a homeless and indigent population. The population had a need for nourishment on the weekends, when soup kitchens were closed.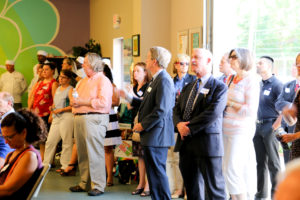 That feeding system became a cause for debate in 2013, however. Some said the outdoor food distribution was out of hand, drawing large numbers, causing trashcans to overflow and creating other disruptive issues.
The City of Raleigh established a task force to determine the best way to provide food on the weekends to people in need in the downtown area. Representatives from the groups that had been feeding the homeless outdoors were invited to join. Their recommendation was to establish a center where food could be provided on the weekends at an indoor facility.
The city council endorsed the recommendation. It authorized more than $100,000 to refurbish a 3,200-square-foot, city-owned building to be used as a temporary food distribution site behind the old Salvation Army building and across from Moore Square.
But the facility needed a group to lead the effort and unite the numerous organizations, such as Brown Bag Ministries, that had previously fed the homeless in Moore Square. The city contracted with the Raleigh Wake Partnership to End and Prevent Homelessness to choose and oversee which group would be the coordinating agency for the center.
They named Catholic Charities of the Diocese of Raleigh, because of its 115-year history of providing services to the people of Raleigh. As coordinator of Oak City Outreach Center, Catholic Charities recruits and coordinates groups of volunteers to provide food.
To date there are about 25 partner organizations. They represent humanitarian organizations and congregations from the Christian, Muslim and Jewish faiths. Several Catholic churches, such as Sacred Heart Cathedral, Our Lady of Lourdes and Saint Mary Mother of the Church, And Saint Francis of Assisi Church and the Franciscan School assist in the center's mission by providing food and volunteers.
A year after opening, Oak City Outreach plans to find a larger, permanent facility near downtown. The search for that location is still in the early stages. Wake County leaders are also looking for a professional agency to run the center and implement more services, such as mental health and substance abuse recovery programs.