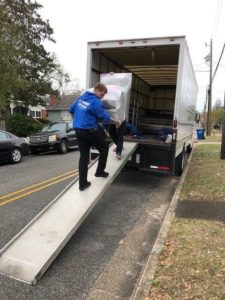 As Christmas approaches, a new collaboration between Catholic Charities and The Green Chair Project is providing families impacted by Hurricane Florence with furniture as they move into new homes. Following the devastating storm, many homes were flooded, not only forcing families to find new living spaces, but also ruining their furniture. Now, as homes dry out and families start the long recovery process, families are moving back into repaired homes or into new rental units but don't have beds to sleep on at night and tables to eat meals around.
"Our staff were meeting with families and identified that furniture was an unmet need in many communities," said Mr. Daniel Altenau, Director of Disaster Services for Catholic Charities. "But furniture is not something we normally do, so we needed to get creative to assist these families."
The Green Chair Project turned out to be the perfect partner to address this challenge.
"The Green Chair Project has been partnering with Catholic Charities to serve families affected by crisis and disasters since 2011," said Ms. Jackie Craig, Executive Director for The Green Chair Project. "As we considered how to best assist and make an impact to Hurricane Florence survivors, it was a natural fit to partner once again with Catholic Charities."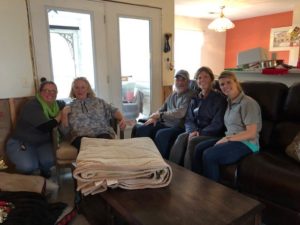 Altenau and Craig began discussions on how the partnership could work. Catholic Charities had the disaster case managers in the local communities who could identify impacted families and assess their needs. The Green Chair Project had the infrastructure to accept, store, and ship furniture to families in need. Together, they were able to establish pilot collaborative programs in Wilmington and New Bern that will help get furniture to families as they move into safe and stable housing.
"We are honored to have been able to gather the resources to be able to respond just in time to see these first 2 families be able to have warm, well-equipped and peaceful homes in time for Christmas," said Craig.
The collaboration will continue into 2019 as more families are identified and more resources are cultivated to provide furniture to families. A wide variety of items are provided to families, with the goal of providing each family with a complete set of essential furniture and accessory pieces. Families receive large items such as mattresses and a table and chairs, as well as smaller items such as a dish pack which includes dinner plates, small plates, bowls, mugs, silverware, and glasses.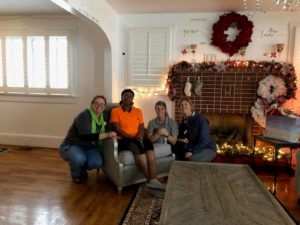 "I am really excited about how well this all has come together," said Altenau. "Christmas is such a special time of year and we are grateful to The Green Chair Project for their collaboration which allowed us to bring holiday cheer to families along the coast."