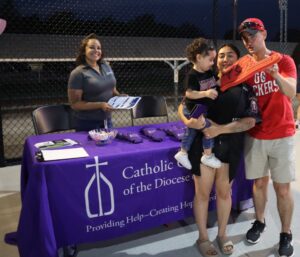 In a cheering display of community support, the Fayetteville Woodpeckers baseball team recently partnered with Catholic Charities, with a portion of each ticket purchased by Catholic Charities supporters donated to the Fayetteville Regional office. The event took place on Thursday, June 15 at Segra Stadium in downtown Fayetteville, where a closely contested match unfolded. The Woodpeckers emerged victorious with a final score of 4-3 over the Columbia Fireflies. The charitable initiative served as a remarkable example of how sports and philanthropy can come together to make a positive impact on the local community.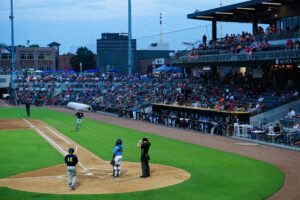 Catholic Charities Fayetteville Program Director,
Vicky Jiménez shared, "We had a great opportunity to join forces with the Fayetteville Woodpeckers, and we had a fun night of baseball as we raised funds for our community.  The donated funds will help us to meet the mission of providing help and creating hope.  Funds raised will go towards our food pantry to help alleviate the effects of poverty and fight food insecurity.  This event also gave us the opportunity to be out in the community, bring awareness of our organization and mission, and have a great time supporting our local baseball team."
Segra Stadium, the beloved home of the Fayetteville Woodpeckers, is a state-of-the-art sports facility that provided the perfect backdrop for this charitable endeavor. Fans and supporters were treated to an unforgettable evening as they cheered on their favorite team while simultaneously contributing to a worthy cause.
Jiménez exclaimed, "This night ended on two great notes, we had community members come out and support by purchasing tickets for our fundraiser, and the Woodpeckers won!"