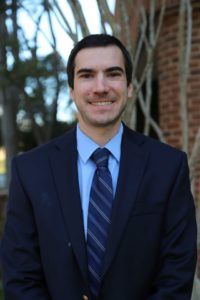 The North Carolina Voluntary Organizations Active in Disaster recently named Daniel Altenau, Catholic Charities director of Disaster Services, president.
Now in his fourth year serving on the NC VOAD board, Altenau has been involved with the Catholic Charities disaster services program for the past five years, and has served on the National VOAD Communications Committee for the past three years.
"I have really enjoyed being a part of the NC VOAD and serving on the board," shared Altenau, who was chosen for the president role Feb. 20. "Responding to Hurricane Matthew and Hurricane Florence over the past two years kept us busy, but the group works well together and that makes a difference."
VOAD is an association of organizations that "mitigates and alleviates the impact of disasters, provides a forum promoting cooperation, communication, coordination and collaboration and fosters more effective delivery of services to communities affected by disaster."
The VOAD organization is divided into state organizations and a national organization.
"Locally, the NC VOAD is comprised of various agencies that have responded to the call to help our neighbors in need following a disaster," shared Altenau.
Catholic Charities of the Diocese of Raleigh is one of its 30 organizations. Other member organizations include: the American Red Cross, Catholic Charities of the Diocese of Charlotte and the North Carolina Conference of the United Methodist Church.
The purpose of the VOAD is to increase communication and cooperation among various agencies to ensure resources are properly utilized and to prevent gaps in service delivery. In his role on the board, Altenau has worked to help with this process. Following Hurricane Florence, Altenau began leading a survivor assistance task force which held conference calls daily for weeks following the storm.
"There were new needs appearing each day and new resources coming into the state," shared Altenau. "Through the survivor assistance task force calls, we connected the agencies that were meeting with clients one on one with agencies that had available resources."
In this new role, Altenau will now help facilitate discussions across the broader NC VOAD organization, which includes the survivor assistance task force, long-term recovery group task force and work groups task force.
"We have a strong VOAD in the state of North Carolina," shared Altenau. "We have been lucky to have been led by Ann Huffman as president and Larry Marks as secretary for the past two years. I am grateful for the hard work they put in and how they have set up the NC VOAD to succeed moving forward."
Altenau will serve as the VOAD president for the next year, working through the continued recovery efforts from Hurricane Florence.