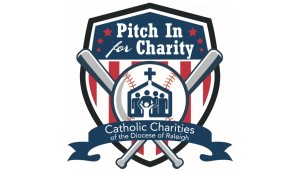 Catholic Charities has teamed up with the Durham Bulls and Carolina Mudcats baseball teams this summer for two special fundraising nights.
The first event took place on Monday, June 20, with approximately 500 people from throughout the diocese attending the Durham Bulls vs. Charlotte Knights baseball game in Durham. Catholic Charities supporters traveled from places such as Roanoke Rapids, Fayetteville and the Outer Banks to enjoy the game.
"We wanted to support Catholic Charities, catch a ball game with a crowd of Catholics and have some fun," Sandy Eisenmenger, from St. John the Baptist Parish in Roanoke Rapids, said.
The evening began when Gary Skinner, executive director of Catholic Charities, threw the first pitch to Bulls pitcher Mark Sappington, a Catholic recently traded to the Bulls.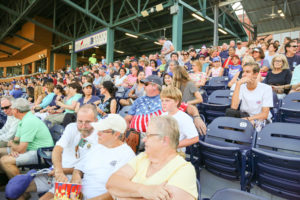 The Durham Bulls donated 50 percent of each ticket sold to Catholic Charities. A check for $2,425 was presented to Bishop Michael F. Burbidge and Gary Skinner.
"This evening was about getting together to have some fun and raise some money," Warren Harris, emergency services coordinator for Durham Catholic Charities, said. "The money raised this evening helps our clients to stay in their homes … by helping to pay, for example, a utility bill and generally assist people in need."
A two-out, bases loaded walk in the bottom of the 10th inning, lead to the Durham Bulls 3-2 victory over the Charlotte Knights.
The baseball-and-charity combo isn't over, though.
On July 29, Five County Stadium in Zebulon will host Cans for Charity with the Carolina Mudcats. Individuals who donate three cans of food to Catholic Charities will receive a $3 discount off the $10 box seat special. Additionally, the Mudcats will donate $1 to Catholic Charities for every ticket purchased through food drive.
For more information about the event, visit the event webpage or contact Gabby Amos at 919-821-9750 or by email at Gabby.Amos@raldioc.org.