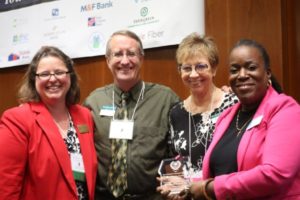 During the City of Raleigh's 16th Annual Fair Housing Community Conference, members of the Fair Housing Board recognized Catholic Charities for their work around housing, both in helping survivors of Hurricane Florence, as well as their everyday work through the Support Circle Program, a critical resource for local communities in ending homelessness in Wake County.
The award ceremony took place at the McKimmon Center in Raleigh. The Annual Conference brought together housing advocates, community members, government officials, and experts on civil and human rights, housing, lending and community development.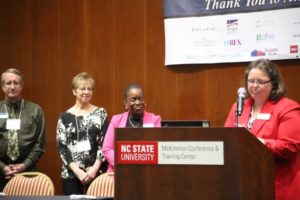 Rick Miller-Haraway, Catholic Charities Raleigh regional director, Sharon Mitchell, Support Circle Program Director, and Carolyn McClendon, Support Circle Program assistant director accepted the award on behalf of Catholic Charities. As leaders of the Support Circle Program, they work to empower families and individuals experiencing homelessness to secure and maintain permanent housing.
"We are grateful to receive the 2019 Raleigh Fair Housing Leadership Awards. Thanks to our sponsors we can provide family rental assistance and supportive services to homeless families," says Sharon.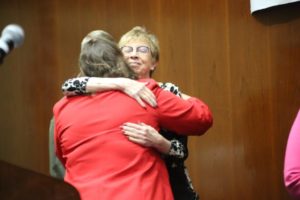 The Support Circle Program for Homeless Families is coordinated by Catholic Charities, in partnership with over 100 congregations from 20 different faith traditions. Through the power of the mentoring relationships between Support Circle members and the families served in the Support Circle Program, people not only obtain housing, but also self-reliance for the future.