Catholic Charities of the Diocese of Raleigh has received a grant from the Catholic Legal Immigration Network, Inc. (CLINIC) to increase its capacity for high quality charitable legal immigration services in eastern North Carolina. In response to a growing need for community-based legal immigration services, Catholic Charities will use these funds to hire a CLINIC Fellow, who will provide legal assistance. Funding for the fellow was granted for two years and began on October 1, 2015.
In responding to the significant, and growing, number of people in need of legal immigration assistance, the fellow and other Catholic Charities immigration specialists offer an alternative to 'notarios' who provide false hope to immigrants, misleadingly promising a path to citizenship. The unauthorized practice is a growing problem in eastern NC. Catholic Charities intends to use its established reputation in serving this community to ensure those in need of legal immigration services receive the competent help they deserve.
Gary Skinner, Catholic Charities executive director explains, "We are excited to have this additional resource to serve the immigrant community in eastern North Carolina. As a Catholic agency, we are called to serve the poor and marginalized of all faiths. Unfortunately, many recent immigrants fall into these categories. Through our immigration services, families are able to begin taking steps toward economic self-sufficiency."
Catholic Charities of the Diocese of Raleigh is one of twelve locations in the Southeast that have received funding from CLINIC. Holy Cross Ministeria Hispano in Kernsville, NC was also awarded funding to serve individuals in western North Carolina.
CLINIC grants are part of a larger initiative to build a stronger community of expert service providers in largely underserved states in the southeastern United States where the population of at-risk immigrants is on the rise.
The Southeast has seen a significant influx of immigrant populations in the last decade. Between 2000 and 2009, South Carolina, Alabama, Tennessee, Georgia, Kentucky, North Carolina and Mississippi collectively have seen a 24 percent increase in the number of immigrants from 31.1 million to 38.5 million.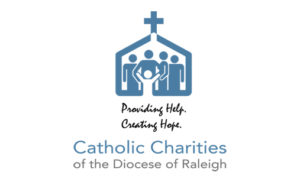 Catholic Charities of the Diocese of Raleigh, Inc. serves people of all faiths or no faith tradition in the 54 most eastern counties in North Carolina through eight regional offices. The agency offers four core programs: Emergency Assistance, Poverty Reduction Services, Clinical Counseling, and Parish and Community Engagement. Catholic Charities has been serving the immigrant population for over 40 years.

The nation's largest network of nonprofit immigration programs, CLINIC supports more than 275 affiliates located in 46 states, the District of Columbia, and Puerto Rico. CLINIC promotes the dignity and protects the rights of immigrants in partnership with a dedicated network of Catholic and community legal immigration programs. The CLINIC Fellows program aims to increase the reach of immigration legal services and public education in underserved areas, particularly as legal service providers prepare for the implementation of Administrative Relief programs. For more information visit www.cliniclegal.org.