– For it is in giving that we receive — St. Francis of Assisi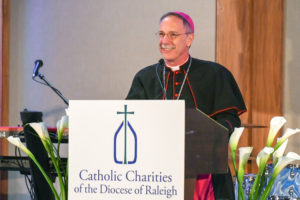 On Saturday, October 27, the 8th Annual Catholic Charities Gala was held at the Raleigh Marriott Crabtree Valley. More than 400 guests, which was the highest attendance record in the gala's history, joined the celebration and helped raise over $260,000. Proceeds will benefit Catholic Charities programs across the Diocese of Raleigh including, Disaster Services, Emergency Assistance, Immigration Services, and Services in Support of the Family.
Bishop Luis Rafael Zarama spoke to gala-goers about the importance of giving back. It is not how much we give, he said, but how much love we put into giving. "Charity is love. It's how our actions express love to the ones who need something," he said. "In this year that I have been bishop of Raleigh, I have seen you in the diocese. And I have seen the expression of love here … it is our faith."
"Each year this event has continued to grow," shared Lisa Perkins, Catholic Charities executive director. "We are elated at how many friends of Catholic Charities came out this evening to celebrate our work."
The festive evening began with the Cardinal Gibbons High School String Quartet welcoming guests into the reception area and concluded with the band PushPlay keeping guests on the dance floor until the end of the evening.
Funds raised will help Catholic Charities continue to serve vulnerable families across central and eastern North Carolina. "It is incredible to see such great support from the community," shared Katey Fithian, development director for Catholic Charities. "Without the generosity of everyone who supported this event, we would not be able to provide help and create hope for families each day."