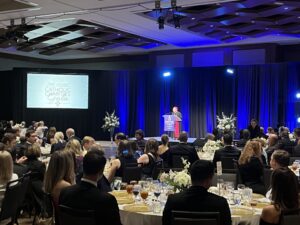 "Charity is putting our faith into practice; it is an expression of how we live our faith."
The 10th Annual Catholic Charities Gala was a resounding success! Hosted at the Raleigh Marriott Crabtree Valley, there were 275 guests in attendance, with others joining the festivities online. To celebrate over a decade of Catholic Charities Galas, over $260,000 was raised. These funds will be used to support the Disaster, Immigration Legal, Family Advancement, and Food Pantry Services of Catholic Charities across the Diocese of Raleigh.
Early in the night, Bishop Luis Rafael Zarama asked event-goers, "What is the best way for us to serve the people in need? It is through kindness and love." He explained that it is only through love that giving has meaning, and that Catholic Charities is merely the way we express that love. "The Catholic Church through Catholic Charities is the way we reach and serve the people in need."
Later in the night, Lisa Perkins, CEO of Catholic Charities of the Diocese of Raleigh, was awarded the inaugural "Ignite Award" for her work in expanding healthy food accessibility through mobile food pantry distributions across the Diocese of Raleigh.
Speaking on Perkins' work, Trish Healy, who along with her husband, John, created the Ignite Award, said, "Mobile Food Pantries can begin to overcome organizational limitations. We can bring food to our neighbors, and it can serve as an example and give hope." She emphasized that these measures are a step forward in the continuing fight against food insecurity. "Because of Lisa's aspirations, and through this first Ignite Award, Catholic Charities will begin to bridge gaps in hunger and create paths to food security."
Echoing these sentiments, Perkins said, "I am excited about the opportunity the Ignite Award creates for Catholic Charities. This initial Ignite Award will serve as a catalyst to create a network of mobile food pantries in our diocese."
To wrap up the speeches for the night, the evening's emcee Ken Smith of WRAL announced the raffle winners as well as the winners of the Premier Silent Auction Item, a salmon fishing excursion to Nushagak River Adventures Lodge in Bristol Bay, Alaska. As the owner of Nushagak River Adventures generously donated an additional two fishing trips to the Gala, the top three silent auction winners will all be traveling to Alaska!