It was a balmy evening on Friday, July 29th for the Catholic Charities Cans for Charity event with the Carolina Mudcats.  This was the second game of the two part "Pitch in for Charity" series that Catholic Charities organized over the summer.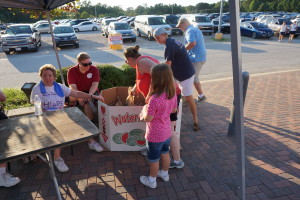 Over one hundred fans came out to watch the Carolina Mudcats take on the Potomac Nationals. More than 300 canned goods were collected and the Mudcats made an additional donation of $100 to Catholic Charities.
Gary Skinner, Catholic Charities Executive Director, expressed gratitude for the turnout, "During the summer there is additional need for food as children who receive lunch through the school system do not receive those meals.  I am appreciative of the community support we received tonight in working to meet this increased need."
The over 300 cans will be distributed among three food pantries, Catholic Parish Outreach in Raleigh, the Catholic Charities food pantry in Greenville, and the Society of St. Vincent de Paul Food Pantry in Goldsboro.  Barbara Wagner, a member of the Society of St. Vincent de Paul, explained the importance of the cans that were collected, "The canned food represents hope and outreach, and a gift of the spirit and kindness, to people in our community."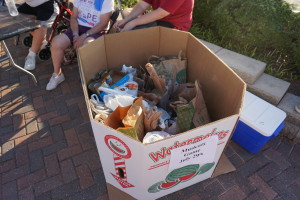 Ray Urban, president of the Society of St. Vincent de Paul in Goldsboro threw out the ceremonial first pitch of the baseball game. Alease DeNoia, a Sacred Heart Cathedral parishioner, sang the National Anthem.  After a hard fought game, the Carolina Mudcats fell to the Potomac Nations 4 – 1.
Catholic Charities will continue to have fundraising events throughout the year.  For more information about upcoming events and how you can help Catholic Charities fulfill their mission, please visit www.CatholicCharitiesRaleigh.org.