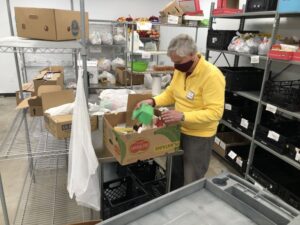 While all food pantries provide clients with groceries, there exist varying pantry operation models, each with their own benefits and accompanying challenges.
Over the past several decades, doctors, nutritionists, sociologists, policy analysts, and other social scientists have studied the methods and operations of different food pantry models. Their work has reviewed the effects of operations on clients' individual lifestyles, as well as the effects of operations within larger social structures. This research has resulted in the recommendation that the opportunity for client choice be included in the food distribution model. Additionally, funders and practitioners, along with Catholic Charities USA, have expressed similar support for increasing client choice in food pantries.
As a result of these developing best practice recommendations, the Durham Community Food Pantry staff and volunteers have worked to add choices for clients whenever possible. The decision to include client choice in the DCFP food distribution model has had multiple positive effects for the community.
A core principle at Catholic Charities is respecting the dignity of the families who are served. Providing clients with choices is a major step in respecting each individual's dignity and increasing their agency in the process. Choices allow clients control over their lives, which unfortunately at times, is not present or available when receiving assistance from other programs.
"Food pantry clients are independent adults, capable and deserving of making decisions for themselves and their families." shared Mary Drue Hall, Nutrition Education Specialist of the Durham Community Food Pantry. "We hope that by providing some choice when possible, we empower those we are serving."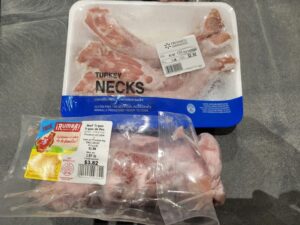 The DCFP offers clients choice in multiple ways. When frozen meat is limited, clients are offered the opportunity to substitute canned meats and canned proteins. Staff and volunteers have also learned that some clients love certain unconventional items including organ meats from gizzards, liver, tongue, tripe, crayfish, and lamb. Staff and volunteers regularly make ice chests of these meats available to clients, allowing them to select their preferred choice.
Another way the DCFP respects the dignity of their clients is by recognizing there are certain limitations that many families face when utilizing certain foods.
"Each client will have their own storage and preparation capabilities." shared Cameron Morgan, Assistant Director of the Durham Community Food Pantry. "Some families may not have access to items like a refrigerator, freezer, or oven."
By increasing opportunities for client choice, each family receives food that fits their situation, which prevents the distribution of food that can't be used.
Efficiency and reducing waste are also top concerns when serving the community. It can be challenging for staff to acquire food each month. Therefore, it is important that staff spend their time only searching for the items that are needed in the community. Staff and volunteers have gathered feedback through surveys and discussions with clients to understand which foods are most popular in the community. This information then guides the process for collecting food for distribution.
"Sourcing popular items means that clients are not left with food they won't use." shared Morgan. "Additionally, allowing clients choice in what they bring home further limits the amount of food that is wasted."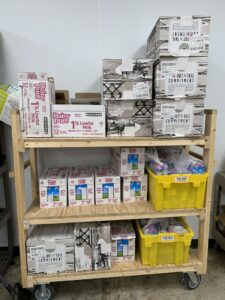 In practice, this approach helps in two ways. One example is milk. Milk is an item that frequently is in short supply. Therefore, client choice reserves the limited supply for the families that intend to use it. Additionally, items such as canned chicken and tuna are expensive. Utilizing a client choice model results in a more efficient use of funds, reserving these higher priced items for clients who intend to include them in meals.
For the DCFP, client choice is also a funding decision. More foundations are beginning to prioritize awarding grants to food pantries which make services more accessible to families. The more opportunities for client choice at the DCFP, the more likely additional support will be approved.
"We have implemented evening distribution hours as another way we increase client access and choice." shared Morgan. "On Wednesdays, the Durham Community Food Pantry serves approximately 100 families who prefer the evening distribution."
Adopting these best practices, which have been agreed upon by food pantry providers, allows staff to learn from the successes and challenges of other agencies and improve on their past performance. The ultimate goal is to provide the best experience for families accessing services. DCFP staff and volunteers have found that choice is an important step in making that happen.