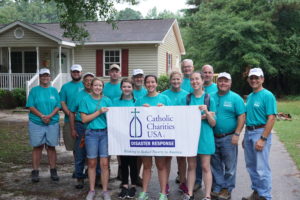 On Saturday, July 29th, fourteen volunteers traveled to Princeville, NC to help repair two homes damaged by Hurricane Matthew.  The project was coordinated by NC Catholics Volunteer, a partnership between the Catholic Charities, the Knights of Columbus, and the Diocese of Raleigh.  The project was also coordinated with the United Methodist Church, which is the lead agency repairing the homes where volunteers worked.
A few volunteers traveled a long distance to participate in this project.  A grandfather visiting from the Diocese of Grand Rapids, MI, decided to tag along with his grandchildren who had signed up to volunteer.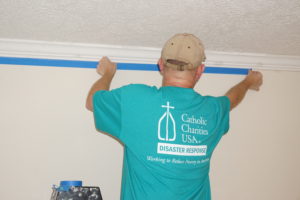 Additionally, Mrs. Julia and Mr. James Michaels, a mother and son pair, traveled from Our Lady of the Rosary in Lexington, NC, which is part of the Diocese of Charlotte. Their day started with a 4 a.m. wake-up call before getting in their cars for a nearly three-hour drive to meet the rest of the group in Princeville.
For Mrs. Michaels, the drive was worth it to be able to help in a meaningful way.  She explained she wanted, "To be able to use our hands and give back a fraction of what we are so blessed to have."  For Mr. Michaels, "It was an opportunity to try something different and something new.  We had never really taken part in this kind of construction event."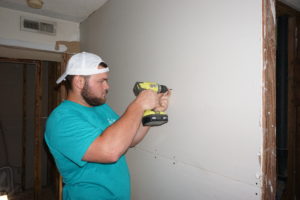 For Mr. Eric Massey and his fourteen-year-old daughter, Lyndan, their drive was a little shorter.  Living in Farmville, they felt like they were working in their own backyard.  Mr. Massey shared that, "It means a lot to see Catholic Charities working locally.  It's great to see a coordinated effort."  Mr. Massey and his daughter spent the day putting the finishing touches on a home by painting trim.  Lydan explained that, "We recently painted our living room which prepared me for what we did today."
Others from the group worked on a second home, which was in the middle of being repaired.  Volunteers installed insulation around the outside walls and put up drywall on the inside walls.  When the group first entered in the morning, it was hard to distinguish one room from another because all you saw were two by four studs.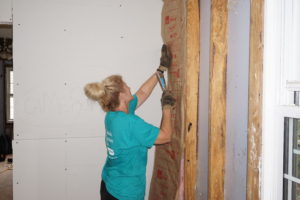 By the time the group left, it was beginning to feel like a home again.
Mrs. Mary Maher, who came from Apex, NC, was one of the volunteers who helped install the insulation.  She had never previously worked with insulation, but was able to quickly learn what to do.  Mrs. Maher explained that individuals with all skill sets should feel comfortable participating in one of these projects. "There are so many opportunities to contribute, you don't have to have specific skills.  There are also so many people who know what they are doing and will show you what do to.  You have a family of people and everyone is working towards the same effort."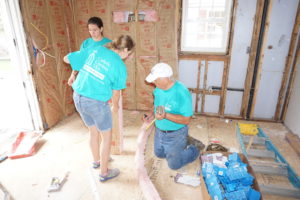 To learn more about NC Catholics Volunteer and find out when the next volunteer opportunity is, please visit www.CatholicCharitiesRaleigh.org/volunteer.  If you are unable to volunteer and would still like to support this effort, you can make a financial contribution at www.CatholicCharitiesRaleigh.org/donate.  If you have any questions about the work of Catholic Charities or NC Catholics Volunteer, please contact Daniel Altenau, Catholic Charities Director of Disaster Services.