Catholic Charities offices have had to face many challenges in 2020 due to COVID-19. One important aspect keeping services running during this time has been volunteer support, but that has not been without it's own hurdles. Together, staff and volunteers have found a variety of ways to continue providing vital resources to the community in a safe way that respects recommendations to prevent the spread of COVID-19.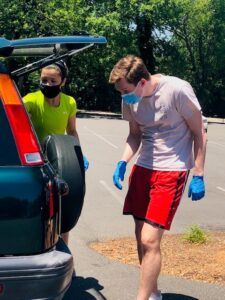 Durham Finds New Ways to Help and Serve…
In early March, when quarantine requirements were implemented to prevent the spread of COVID-19, older adults became one of groups most at risk for developing complications from the virus, according to the Centers for Disease Control and Prevention. For the Durham Community Food Pantry, many of their most reliable volunteers fell into this category. Many of these volunteers decided to reduce their volunteer activity and self-isolate to prevent becoming infected.
This sudden loss in volunteer support meant that new volunteers needed to be recruited quickly. An email request was sent to local Catholic parishes with an urgent request for volunteers, which resulted in Bob Austin, a parishioner from Holy Cross in Durham, responding to this call for help. Austin came on board to help pack food together with his eighteen-year-old son, and twenty-three and twenty-five-year-old daughters. "This was our first time serving as volunteers and we found great people to work with and we were happy to help too," said Austin.
According to David Juarez Torres, program director at the Durham Community Food Pantry, COVID-19 has made serving the community more challenging and reduced the number of volunteers the space can host at one time. Through collaboration, they have been able to adjust to the new safety processes and continue to serve families in need.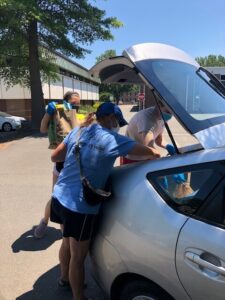 "Our volunteers appreciate the effort we make in being open to feed the hungry and providing the opportunity to still participate and contribute," said Juarez.
Wilmington Volunteers Call on Hurricane Relief Experience…
At the Cape Fear office in Wilmington, volunteer support has remained strong in serving the community. One reliable volunteer has been Sabina Newman, a parishioner of St. Mark Catholic Church in Wilmington who also serves on the Board of Directors for Catholic Charities. "We knew that families were going to need help and with the parishes closed, the food collections were going to be difficult," she said.
A group of Sabina's fellow parishioners at St. Mark's had started a project last year called Sharing Tree as a way to help families who were Hurricane Florence survivors. The program helps families meet basic living needs through sharing household, personal care, and everyday cleaning/support items. When statewide quarantining began, Sabina immediately thought of her fellow volunteers from the Sharing Tree project who could help put together emergency kits to help families in need.
Under the direction of Emilie Hart, Catholic Charities Cape Fear regional director, volunteers watched an instructional video which walked volunteers through the new health protocols. Together, 35 volunteers then worked to pack items.
"I was not afraid of getting sick, we were social distancing while we were packing the donations. I was more worried about helping those in need than getting sick," said Newman.
In Greenville Volunteers Have Been Steady…
Liz McDowell, regional director of Catholic Charities in the Tar River Region, was impressed by the support of volunteers during the first months of the pandemic.
"Our volunteer support has been amazing thus far, there is no way we could do what we do without them," mentioned McDowell. "Because of the amazing volunteers we have had, we have been able to conduct deliveries to seniors who face food insecurity and cannot get out. We have also increased the numbers of people we are able to safely serve via our drive-thru service."
One of the volunteers at the Tar River Regional Office is Dr. Mark Dellasega who is also a member of the Catholic Charities Board of Directors. Dr. Dellasega is prevented from physically working at the regional office because of his involvement in the medical field. However, he has still had an impact on the Tar River Office. He has been able to help coordinate the contribution of food and personal supplies from St. Peter Church with the cooperation of the Knights of Columbus.
Dr. Dellasega shared that his involvement has made him very aware of the group of dedicated staff and volunteers who have contributed countless hours during this pandemic.
"The ability to provide basic sustenance has given those in need hope and an appreciation that there are those who care," he said. "As a board member, I would like to express deep appreciation to those who have stepped up."