Lourdes Desmond is a volunteer at the Catholic Charities Fayetteville Food Pantry. Seven months ago, she began volunteering after seeing a call for volunteers in a St. Patrick Sunday bulletin. "Although my sister and I are not professional volunteers per se, we volunteer at several local agencies," she says.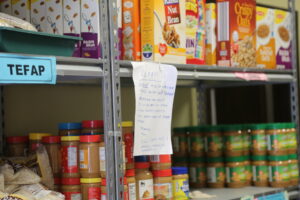 Desmond first started volunteering with Catholic Charities remotely, but really enjoys seeing the impact she makes when she volunteers in person. Through her volunteer service, Desmond has had the opportunity to meet families from a variety of cultural backgrounds.  
She shared, "Recently a family came for food.  The woman said little, the man did most of the talking. When I realized that he was speaking what I thought was French, I tried to communicate in my own stumbling way. They were, in fact, from Haiti and were speaking Creole, and had just come to the U.S. after the disaster that had occurred there.  We had a great time gesticulating and conversing."  
On top of this, she recently discovered that her new neighbor had recently been evacuated from Afghanistan and also benefitted from Catholic Charities services.  She added, "To say that helping these families is most rewarding doesn't convey the degree to which it is so."  
On a normal day, Desmond can be found stocking the shelves, but she has dabbled with other food pantry responsibilities such as bagging items and rolling the donations to clients' cars.  However, for Desmond, the volunteer work doesn't stop when she walks out of the office. Desmond and her group encourage others to volunteer their time and skills to make a positive impact in the community.  
"We've got a good group," she says as she describes her group of friends -all over the age of 60- who volunteer together around the area.  
Additionally, she and her group of fellow parishioners (approximately 9, all retired) have formed a loosely structured team of volunteers who respond to requests for assistance. She describes, "When a team member receives a request for assistance, I send out an e-mail with relevant details."   
Desmond and her friends enjoy the time they spend together and with their community, but also understand the importance of the work they do.  
"It is heartbreaking and heartwarming at the same time," Desmond says, but she also adds, "I can't convey the satisfaction we get."