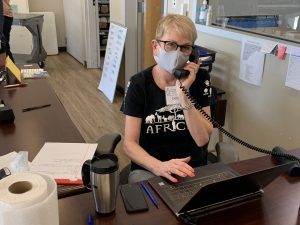 Debbie Reed moved to Durham in 2014, after a career as a management consultant for both For-Profit and Non-Profit organizations. Her Non-Profit career took her through various parts of the world including India, Tanzania, and Kenya before arriving in New York as the COO of the National Academy Foundation. At the National Academy Foundation, Reed supported the agencies mission to create specialized programs within public high schools to teach students essential personal and professional skills such as finance.
Upon retirement, Reed moved to the Southeast United States to be closer to her family. She was attracted to Durham by the wide range of great food, performance arts, prestigious universities, and the sense of community that the city had to offer.
Once in the triangle, Reed started a second career as a volunteer. First, she joined the East Durham Children's Initiative, now known as the Durham's Children Initiative, to help the organization investigate and expand services for community engagement and food insecurity. Reed then joined the Osher Lifelong Learning Institute (OLLI) at Duke University in 2017 as a part of their Community Engagement Committee. In her role with the Community Engagement Committee, Reed began looking into community solutions to address food insecurity.
Through this research, Reed found the Durham Community Food Pantry (DCFP) and contacted Moira Roberts, the Volunteer Coordinator, to connect DCFP with interested OLLI volunteers. Reed herself also expressed interest in volunteering at the food pantry. She started out assisting with a variety of duties in the warehouse as well as assisting with loading food during pantry distributions. When a need for a front desk receptionist arose, Reed responded and continues to fulfill the roll to this day. As the front desk receptionist, she assists with intake calls from people seeking information on accessing services, receiving and weighing food donations, and assisting in the coordination of new volunteers.
"Being at the Durham Community Food Pantry, it feels like a family and I actually take pride in the work I do there. It makes you feel like you're doing your part in making the world a better place and get to have fun doing it. I feel like this is MY organization when I talk to people as well as when I highlight DCFP in OLLI. We (volunteers) get so much back from being at DCFP."