Astrid started her yearlong AmeriCorps commitment with Catholic Charities in September.  She helps with administrative duties at the front desk, family case support, and assisting clients with employment services.  Below is her reflection on what her time at Centro La Comunidad has meant so far.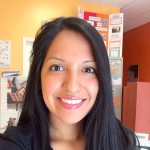 When I knew I wanted to volunteer and be part of my community, Centro la Comunidad immediately came to my mind. Soon I realized that Centro la Comunidad was not alone, and that it was part of an even bigger organization throughout North Carolina, Catholic Charities. I was moved by Catholic Charities mission and commitment to helping people in need, and that's when I knew I wanted to apply to work with this amazing organization. The fact that an AmeriCorps member can be part of Catholic Charities makes this experience so much more rewarding.
I have never worked in human services before, so I'm still a little nervous about making sure I do my best, but at the same time I'm so excited to be getting this unique experience. I want to help others, and even with my limited experience, I know how rewarding it is when we make a difference in someone's life with the help we provide them.  The best kind of work is the one that doesn't feel like work, and that is how I feel like when I'm helping families.

Even though I started not too long ago, there has already been a particular experience that has touched my heart significantly. One day a sweet older lady came into our office asking if we could help her get in touch with DSS, and the steps needed to reapply for disability. As we were helping her get the information, she revealed to us that she was a cancer survivor and had recently also survived a heart attack. This sweet woman started telling us the hardships she had to overcome when she first came to this country and how hard it's been ever since.  Her story was sad, yet powerful, and it made an impression on me because it showed me all the courage and strength she had. Before she knew about Centro, she didn't have anybody to turn for help when she needed something, and it makes me feel so happy that now she has us, an organization that can assist her. It felt so good to help her accomplish something she needed.
–        Astrid