Sister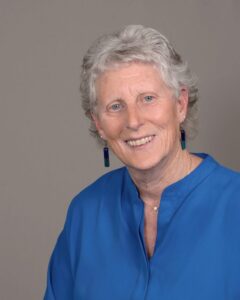 Anne has been serving the Diocese of Raleigh for over 35 years. In her time here, she has served the community both as a clinical counselor and as a teacher. In both roles, she has helped countless children and adults work through grief, emotional distress, or other personal issues they might have faced. As her time working with Catholic Charities comes to an end and she begins transitioning into retirement, she reflects on all the good she has done.  
"I feel good, I loved every minute of it, and I feel like I've done all I could do."  
And she has done a lot. In addition to her professional roles, she has stepped up in other ways to serve her community. For many years she spent time fostering babies for the Catholic Charities adoption program and recently, she volunteered with Saint Raphael Catholic School as students and faculty struggled through the loss of a beloved staff member.  
Barkley Sample, regional director of the Raleigh Region, recounted "Sister Anne, with her breadth of experience and wealth of knowledge, went to Saint Raphael and donated her time pro bono to both Catholic Charities and to the school. She must have done close to 25 hours of the equivalent of grief counseling there."  
Sample went on to explain the impact that she has had on the community. "Since I've been here, she's been the clinical supervisor for the school counseling program, and her guidance has just been tremendous. We're certainly not going to find anybody like her to fill her shoes. It's going to leave a hole, we'll miss that experience that she had, not just as a counselor for the last 20 plus years, but also her career as a teacher." 
Lisa Perkins, chief executive officer of Catholic Charities, added, "Sister Anne provided compassionate and knowledgeable care to those in need in our Diocese.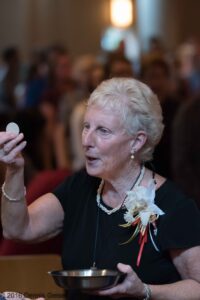 Her skill set as a clinician, her guidance to her colleagues and her heart for service will be greatly missed. Sister Anne's expansive knowledge allowed Catholic Charities to offer counseling services to assist families served by the Tribunal, Catholic Schools, and the Raleigh Deanery. I am grateful to have had the opportunity to serve with her." 
Sister Anne is moving back to Pennsylvania with her two dogs, and she is looking forward to spending more time with her family and friends. But she is not finding it easy to leave the area she has served for over three decades.  
"It's hard to leave. This has been my home and my ministry for more than half my life. I'll miss the church, the spirit of the Raleigh Diocese, and the ability as a woman to be collaborative in the church. That was not available to me in Philadelphia. I think I have been able to be part of people's lives here – as a woman in the church – in a way that gave me comfort, joy, and empowered me to want more." 
As for what she plans to do in her retirement, she is excited to find out. "It'll be interesting. I don't know what I'll do, but I'll find something. I'll go back up North and find new adventures there."