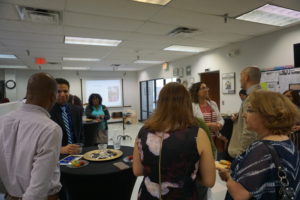 Last Thursday April 20th, Centro para Familias Hispanas held its second annual "Reunion de Amigos" at their facility located on 2013 N. Raleigh Blvd in Raleigh, NC. About 60 people attended the event with representatives from different partner organizations such as Wake Tech Community College, Wake County Public School System Preschool services, Children's Developmental Services Agency, Wells Fargo, Mil Mujeres, Venezuela para Ti, members of the Centro para Familias Resource Development Committee.
"It was great to see so many new faces and friends of the center," Ms. Maty Ferrer, Director of Centro para Familias Hispanas explained.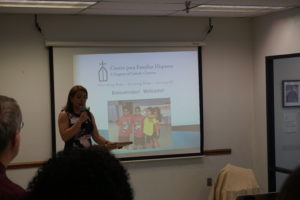 For many attendees, this was their first time at the center. Having only heard about Centro para Familias from friends and family, they did not know what to expect when coming to the open house.
Ferrer continued, "We felt it was important to have an Open House and share with the people the good work we are doing, our mission, and information about how our programs impact the community.
Centro para Familias Hispanas has been serving the Hispanic community since 1997. Last year the center served about 14,000 people throughout the many programs and services that are offered. The center has three full-time employees, one-part time employee, and three interns. Volunteers serve a critical role in supporting staff and allowing the center to serve so many families each year. About 30 dedicated individuals volunteer on a daily basis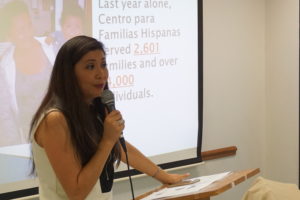 Ferrer stated, "Volunteers are our hands, and legs that help us reach out longer and higher. Their outstanding commitment to our center is priceless."
Centro para Familias Hispanas is now preparing for its second Annual Fundraiser, "Dancing for a Cause." Last year this event was a huge success, raising over $11,000 to support programming at the center. They hope you can join them this year and help them surpass their goal, allowing them to expand our services.