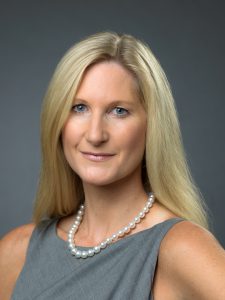 Catholic Charities is excited to announce that Mrs. Rebecca McCabe has been appointed by Bishop Michael F. Burbidge, Bishop of Raleigh, Chair of the Catholic Charities Board of Directors.  Mrs. McCabe is Senior Vice President with Aon and has over 15 years of expertise in developing business relationships which she brings to her new leadership role with Catholic Charities.
Bishop Burbidge, expressed his gratitude for Mrs. McCabe taking on this responsibility. "Rebecca is very well qualified for this important role. She is a successful businessperson, an involved parishioner at Sacred Heart Cathedral and has been involved with Catholic Charities through the Catholic Charities Gala, including as a current co-chair," Bishop Burbidge said. "I know that Rebecca will provide great leadership and will assist us in creating even greater outreach to those in most need."
Mrs. McCabe has a history of working to help those in need.  She has previous volunteer experience as a Peace Corps Volunteer in Panama, focusing on community health, water resources management, and small business development.  Additionally, early in her career, Mrs. McCabe worked with FirstCarolinaCare to develop an insurance product for the working uninsured in small businesses. This insurance product delivered affordable health care coverage, thereby reducing the uninsured rate and achieved financial sustainability across the health system.
"Catholic Charities is continually looking to meet the large and changing demand for services that we find in our community."  Mr. Shane Nolan, Interim Executive Director and Chief of Operations for Catholic Charities, stated.  "As Chair, Rebecca will lead our board and help position the agency to accomplish this goal."