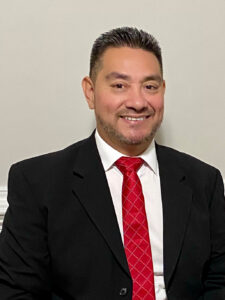 Rafael Lopez who is originally from San Salvador in Salvador, immigrated to the United States when he was only 19 years old.  Like many Salvadorians in the United States, he immigrated to escape the repression and violence associated with the onset of civil war. 
When Lopez arrived in the United States in 1990, he didn't have any relatives living here, he didn't speak English, and he had very little money. He did have a friend who helped him to get settled in his new life in America.  Working and helping others are passions that have always been present in Lopez's life. In 2008, he was able to put both of those passions to work helping others when he  joined the team at Catholic Charities.
His work…
Today, Lopez is a full time an Immigration Specialist accredited by the United States Department of Justice* and recognized by the Board of Immigration Appeals.  Daily, he assists immigrants in the completion and submission of various legal documents, from applications for Citizenship and Naturalization to family unification processes.
What he enjoys most about his work is the impact it has on the lives of the people he helps. "By helping one person with their legal documents, I help a family stay together," he explains.  "Once someone can start working legally, this person will be able to continue helping other family members and avoid becoming a burden on society. And the community is obviously strengthened too."
The challenges and opportunities…
Lopez's work has seen a rebound in recent years. In addition to the volume of people who need assistance, Lopez says it can be a challenge to keep track of the constant changes in immigration laws.
"Thankfully here in Catholic charities we know how to solve the challenges and we receive constant training."
He thinks that the immigration system overall is damaged. It is also very difficult having to tell many people, many times, that they don't qualify for a benefit or are not eligible to become legal residents.
"Being an immigrant allows me to understand the situation our clients face," he said. "Regardless of their nationality, immigrants often experience similar situations and I'm glad that we can help all kinds of people."
Proud of his heritage…
Lopez has three children: Ashley, 20, Jonathan, 16, and Daniel, 13. While they all were born in Raleigh, Lopez is proud that his children also speak Spanish and enjoy the Latino culture.
"My three kids speak Spanish well; they know how to read and write well," he says. "It was difficult to help them to keep our native language as they grow, but the constant work to help them develop love for our culture has had very good results with them."
Regarding the future of the Latino Community, Lopez is optimistic and hopes to continue working at the service of immigrants, not only Latinos but all those who require advice with their immigration documents and family challenges.
Lopez believes in the power of collaboration; therefore, he appreciates the support given by other organizations and invites everyone who wants to support the immigration services provided by Catholic Charities to collaborate. "I would like to take the opportunity to invite those people who have that desire to help and contribute, because every small contribution helps."
"I have learned that if we work together, we can do great things and together we can be more."
About the Latin American Excelente Awards…
This was the 9th edition of the Latin American Excelente Awards and due to Covid-19, the event was held as a virtual gala via ZOOM.
*A Department of Justice Accredited Representative is a non-attorney individual that (1) is employed by a DOJ recognized nonprofit organization; (2) has good moral character; (3) has knowledge and experience of immigration law and procedures; (4) have successfully applied for recognition from the Department of Justice of the United States. These individuals are authorized to practice immigration law as long as (1) they remain accredited; (2) they operate out of a location belonging to the recognized nonprofit;