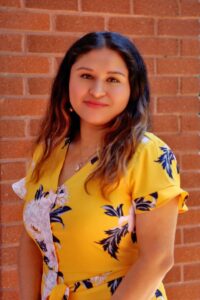 Providing help, creating hope, serving all. This is the tag line for Catholic Charities. It is also an appropriate description of how Mrs. Patricia Gutierrez Tootoo works in the community. Due to her incredible commitment to others, Tootoo was recently nominated to receive the 2020 Impact Award.
The annual Impact Award is organized by the Domestic Violence Shelter and Services, Inc. and New Hanover County Domestic Violence Advocacy Council (DVAC), in collaboration with the Pullman family.
As their website states, "This award serves as a commitment to honor those lives who have been lost to domestic violence by celebrating individuals who shine a light on the issue and inspire hope and change in our community."
Tootoo started with Catholic Charities in 2007 as a family case manager. In this role, she listened to the challenges families were facing and worked to find solutions. In her decade of service with Catholic Charities, Tootoo has helped countless families in a variety of ways, truly serving all. In her collaboration with the Domestic Violence Shelter and Services, she has taught parenting classes to their clients, provided food, and shared resources when they needed it most.
"Patricia is incredible to work with.  She is the epitome of the phrase 'above and beyond'," shared Ms. Andrea Stough, Residential Services Director at the Domestic Violence Shelter and Services, Inc. "Her warmth, empathy and professionalism are things I think set her apart from others…and is quick to collaborate when [clients] need more than she can provide."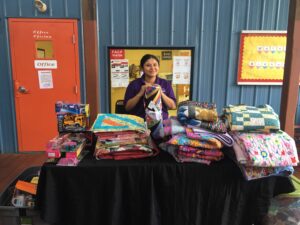 Working with domestic violence survivors requires a special approach. Tootoo takes time to build rapport with each client while maintaining professional boundaries. This is not easy to accomplish, but incredibly important. Building trust is crucial with clients, but may be difficult with survivors of domestic violence because their trust may have already been broken in many different ways.
Tootoo's work with the Domestic Violence Shelter and Services, Inc is a shining example of fulfilling the Catholic Charities tag line. She provides direct help to individuals by addressing their immediate needs, while also providing hope for a better future through the care and compassion she demonstrates when engaging with them.
"Whenever staff makes a nomination for this award, we consider not only our personal feelings but feedback from the victims and survivors we work with," shared Stough. "She has always been so highly regarded by our clients and when we refer them to her, staff have a peace of mind that she will provide services in a manner that promotes empowerment and healing."
Through her work, Tootoo engages with various community partners to provide individuals with a comprehensive path to success, including Pender County Health and Human Services and the Sister Isaac Center at the Basilica Shrine of St. Mary who are frequent partners.
"She goes the extra step to help her clients," shared Janet Martinez, Child Protective Services Supervisor for Pender County Health and Human Services. "Patricia is kind and treats everyone with respect. She has no issues adjusting her schedule to meet her clients' needs."
"Patricia is always a pleasure to work with," shared Ms. Mary Ann Kotas, Director of the Sister Isaac Center. "I know I can always reach out to her when I need her assistance or advice…particularly when we have difficulty communicating with members of our Hispanic community.  She will even jump in her car and run over to our Center to help us with a situation, as well as offering her assistance over the phone when needed."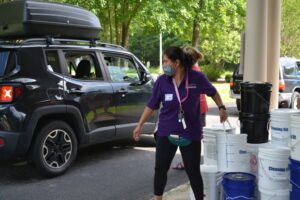 In addition to her day to day responsibilities, Tootoo quickly pivoted following Hurricane Matthew and Hurricane Florence to help with the disaster services program. She brought the same compassion, dedication, and flexibility she demonstrated in her other capacities to storm survivors, many of whom had just lost everything. From conducting disaster case management to helping hand out supplies at distribution events, she helped out wherever she could.
For much of her tenure with Catholic Charities, Tootoo served the community as a family case manager. Recently, Tootoo assumed the role of Emergency Assistance Program Coordinator. Her experience and professionalism made her an ideal candidate to fulfill the additional responsibilities associated with the position. In this new role, Tootoo will oversee all operations of the emergency assistance program which aims to help people meet immediate needs to decrease their risk of hunger and homelessness. Tootoo will also continue to be responsible for the annual Wrapped with Love Christmas program that helps share toys with children at Christmas each year. Over the past five years that Tootoo has worked with the program, it has grown by over 200%, greatly increasing the impact to the community.
"Patricia is such a thoughtful and insightful person. She makes no hasty decisions.  She always takes the time to analyze how each decision will impact the communities she serves, whether it be families who are food insecure, immigrant families, or families who have lost everything in a storm," share Ms. Emilie Hart, Cape Fear regional director. "She always puts others first and leads our team with this example. Over the last decade, she has transformed so many lives for the better and I could not think of a more deserving person to be recognized for the Impact Award. Her commitment is nothing short of astounding."