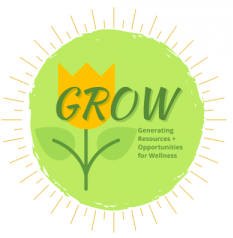 Generating Resources and Opportunities for Wellness – that is the mission of the GROW project and how the program got its name. Founded by a group of UNC Chapel Hill undergraduates, GROW is "a social innovation project" aiming to "create resources and opportunities centered around mental, physical, and nutritional wellness for those experiencing food insecurity in the Triangle."
The GROW team plans to curate these resources for Durham Community Food Pantry clients through a series of programs throughout the summer. The team will bring in local experts, host demonstrations, and compile resources into a centralized location on their website and social media.
GROW's student founders first reached out to the DCFP in fall 2020 to discuss a potential partnership with a shared goal of combating food insecurity. After many meetings, emails, Zoom interviews, and shared documents, the GROW leadership team received the prestigious Bryan Fellowship through the Carolina Center for Public Service to provide funding for their project.
"We are excited to partner with GROW in their wellness campaign. Food insecurity is not an easily mitigated social issue." Shared Mary Drue Hall, Nutrition Education Specialist at the Durham Community Food Pantry.
Food insecurity is a factor directly linked to challenges in mental and physical health. The DCFP aims to help alleviate food insecurity in the community, as well as provide support in other facets of life. Working with partners such as GROW, the DCFP will be able to both widen and deepen its impact in the community.
As the GROW leadership writes, "We're more likely to serve multifactorial problems in our society when all stakeholders share a common goal and collaborate to achieve that goal together."
Follow GROW on Instagram @growtriangle and be sure to check out the Durham Community Food Pantry Facebook and Instagram!