Fayetteville Region: Parish Highlight Series
Support from local parishes is vital for Catholic Charities offices to meet the many and various needs of individuals and families within the Diocese of Raleigh. Each year, the staff at the Catholic Charities Office in Fayetteville witness the enthusiasm for helping others displayed by local parishes which supports them in providing high quality services to the community.
This week, we are featuring the incredible work of Good Shepherd Catholic Church and their local Knights of Columbus Council who have been incredible supporters of the Fayetteville Office.
---
Parish Highlight: Good Shepherd Catholic Church – Hope Mills: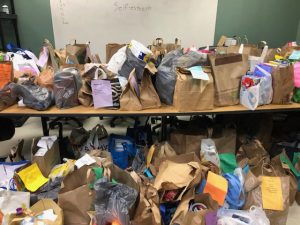 The Knights of Columbus from Good Shepherd Catholic Church – Hope Mills provide much needed volunteer labor to the team at the Catholic Charities Fayetteville Office. Local knights regularly assist with picking up groceries from the food bank and groceries are delivered to the Fayetteville Office where they are sorted and distributed to families.
In addition to their volunteer time, the Knights offer their support in many other ways throughout the year.
"Our Council was doing the Thanksgiving and Christmas food baskets giveaway before I got involved around 2012." shared Nick Foti, member of the Knights of Columbus and lead volunteer at Catholic Charities office in Fayetteville.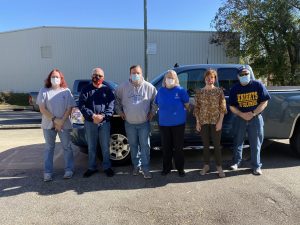 Two key annual programs hosted by the Knights are "40 Cans for Lent" and "Coats for Kids." Through the "40 Cans for Lent" program, something Knights of Columbus across the country all participate in, food is collected during lent from the parish. All items are then sorted and distributed to Catholic Charities, Alms House, and Good Shepherd.
Another national program which Knights support locally each year is "Coats for Kids" which helps keep children warm during the cold winter months. Since 2016, Good Shepherd Catholic Church has hosted this "Coats for Kids" fundraiser and provided approximately 60 winter coats to children annually.
In addition to these planned events, the Knights of Columbus are also on call when certain needs suddenly come up with the Fayetteville Office. Following Hurricane Matthew, the Knights of Columbus stepped forward to help where they were needed.
"In 2017, when Catholic Charities needed some manpower and trucks to help bring food and supplies to area shelters, we got a group of our Knights together to help out. Since then, we just continued helping with the monthly food pick up, unloading, and shelf stocking," concluded Foti.