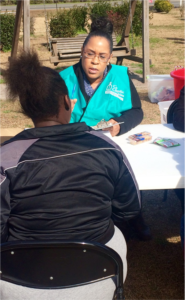 I have been an intern at Catholic Charities since 2016.  I am currently a student at Edinboro University of Pennsylvania working towards a Master's degree in Social Work.  I received my Bachelor's degree in Business Administration from University of Mount Olive and obtained an Associate's degree in Broadcasting from Lenoir Community College.  As a member of the Catholic church, it simply felt right to choose an internship at Catholic Charities.
Being a very spiritual person, the Catholic Charities mission statement spoke to me, which is to provide service to people in need and to advocate for justice.  My internship at Catholic Charities has been a very rewarding experience.  I have thoroughly enjoyed working with the disaster relief team, connecting clients to resources in the community, and working with staff at Catholic Charities.  I loved having the opportunity to travel to Pender, Duplin, and Columbus counties to assist clients in the aftermath of Hurricane Matthew. It was a very rewarding experience to help people who had been feeling overwhelmed from the loss of their homes and possessions.  All volunteers worked diligently to ensure the safety of clients and to help them rebuild their lives.
Volunteering in the community over the years at various organizations has helped me to decide that I am passionate about a career in Social Work.  I love Social Work because I'm able to help clients cope with everyday problems, focus on their strengths, empower them, and to follow up to ensure their situations have improved.