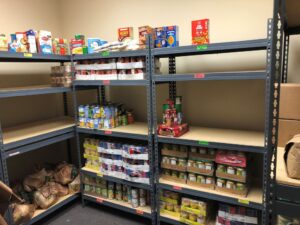 The shelves of the Catholic Charities Greenville Food Pantry are a little bare after a record-breaking day.
"Each day we strive for greatness and to serve individuals and families to the best of our abilities and make a difference. We are nothing as individuals, but amazing as a team," shared Ms. Liz McDowell, Tar River Regional Director.
Two staff and one student intern operate the food pantry with the help of volunteers. Yesterday,  McDowell put out a call for additional volunteers in anticipation of serving a large volume of families. The community responded to this call for help with a total of five volunteers, including two first time volunteers, arriving by 9 a.m. to serve the community.
The day started by building a schedule of what needed to be accomplished. Frist on the list was the first of three trips to the Food Bank to stock up on groceries to distribute. After the first of three trips to the food bank to stock up on supplies, the drive-thru food pantry opened at 10:00 a.m. to begin distributing a week's worth of groceries to each family.
Throughout the day, volunteers and staff were busy packing bags, loading cars, returning to the food bank twice as supplies ran low, answering calls, and delivering groceries to those who couldn't travel to the office.
By the time the drive-thru closed and all deliveries had been completed, around 3:30 p.m., the office had served a record 72 families, which pushed the limits of office space and resources.
This was all accomplished due to a wonderful team of donors, leaders, volunteers, and families in need. "I am in awe of the tiny miracles we accomplish that go unnoticed to many," shared McDowell. "I am thankful to our staff, the Eastern North Carolina Food Bank, our interns, donors, grantors, and volunteers!"
The Greenville Office will continue to need volunteer support as they respond to increasing need due to COVID-19. If you are interested in volunteering, please call 252-355-5111.