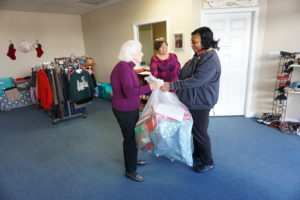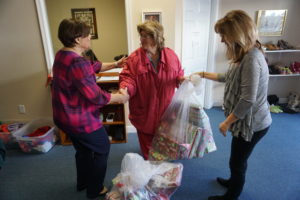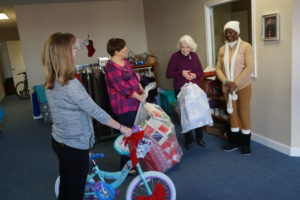 The holiday season can be a challenging time for families living in poverty.  During this season of joy, many families don't have the resources to have even a few special gifts for their children under the tree on Christmas morning.  Through the generosity of the community, Catholic Charities offices across the Diocese of Raleigh can help make the Christmas holiday a little more special for families.
This year in the Albemarle Deanery, over 80 families received Christmas presents through the Catholic Charities Christmas program.  Planning for this program begins in August as local staff develop a timeline and start preparing all the logistics needed to make things run smoothly.  Applications to receive gifts are then distributed to Catholic Charities clients in September.  Clients have until the middle of October to complete and return the applications.  Families are then paired with various community groups who then begin the quest to find the perfect gifts.
On Wednesday, December 13th, the first of three gift distribution events took place at the Catholic Charities office in Hertford located at 113 Market Street.  Families from the Albemarle Plantation Community purchased gifts for nearly 100 children and adults from 28 families based on the needs of the family.  Parishioners at St. Katherine Drexel also provided gifts which will be distributed from the Hertford Office for an additional 7 families.
Lisa Higgins, Emergency Assistance Coordinator for the Hertford Office, shared that "All of the clients had the look of joy, happiness and many had the look of relief."  Catholic Charities is an important part of Christmas for these families.  Higgins continued, "We shared many tears with the clients as they expressed how grateful and blessed they felt that they have us who provide this Christmas event for them."
On Monday, December 18th, the other two gift distribution events took place at St. Ann Catholic Church in Edenton and Holy Family Catholic Church in Elizabeth City.  Parishioners worked with Catholic Charities to provide gifts for over 130 children.  Volunteers joined in with holiday spirit distributing gifts to over 25 families in Edenton and 21 families in Elizabeth City.
For Higgins, helping with this event is a special part of her job.  "I feel truly blessed that I have been a part of making families believe this is the most wonderful time of the year."
This year bicycles were a popular item for children wanting to play outside and enjoy during the summer.  One expecting mother was particularly thrilled when she found out she was receiving a rocking chair for when her baby arrives.