The Most Reverend Michael F. Burbidge has announced the appointment of Mr. Gary Skinner as executive director of Catholic Charities of the Diocese of Raleigh.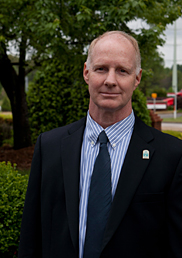 Mr. Skinner was selected following a national search in which 19 candidates were seriously evaluated. The Catholic Charities Board of Directors unanimously recommended Mr. Skinner, who takes on the executive director role formerly held by Kathleen Walsh, who retired last year.
Mr. Skinner previously served as assistant director of Catholic Charities of the Diocese of Raleigh for 12 years. A native of Dayton, Ohio, Mr. Skinner holds a bachelor's degree in History from Centre College in Kentucky and a master's degree in Social Work from the University of North Carolina at Chapel Hill.
He lives in Wake Forest with his wife, Ann, and daughters Genevieve, 10, and Claire, 5. They attend Sacred Heart Cathedral.
During his 12 years as assistant director, Mr. Skinner led the effort to develop a data system to accurately record services and track results.  He wrote proposals that secured millions of dollars in grant money for Catholic Charities. A licensed clinical social worker, Mr. Skinner also coordinated the agency's family support services and mental health services, which grew under his leadership.
"Gary is a great listener who can synthesize differing opinions and the complexities of an issue while respecting all who interact with him," said Rick Miller-Haraway, director of the Raleigh Regional Office of Catholic Charities.
Mr. Skinner's new role includes defining, refining and prioritizing aspects of Catholic Charities, while also increasing the organization's visibility. He said he's looking forward to continuing the leadership Miss Walsh provided for 23 years.  "If people know who we are, who we serve and what we do, they're more likely to partner with us in many different ways," said Mr. Skinner.
Another goal, he said, is to increase the presence of parish-level social ministry. This would include implementing programs such as the Society of St. Vincent de Paul (a national organization) at Diocesan parishes. Currently three parishes in the Diocese operate a St. Vincent de Paul group.
"Enabling the Diocese to respond to the next natural disaster is important, too," said Mr. Skinner. "To be able to do that, there needs to be proactive planning. It's our job to help parishes and communities plan."
The goal of reducing poverty in eastern North Carolina remains constant for Mr. Skinner and Catholic Charities, which oversees eight regional offices. Annually the agency serves more than 70,000 people in need of services such as counseling, emergency assistance, access to healthcare, disaster response and lawful immigration status.
"This appointment reflects recognition of Gary's dedicated service throughout the years, his numerous administrative abilities and leadership skills and his great desire to serve the Lord, His Church and His people, especially those in most need," said Bishop Burbidge. "I am confident that Gary will inspire the staff, volunteers and all those associated with Catholic Charities at this exciting time in the life of our Diocese."