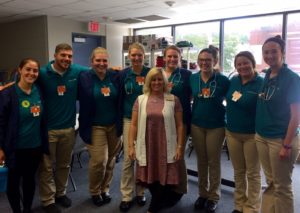 On Tuesday, October 3rd, Catholic Charities partnered with UNC Wilmington (UNCW) to provide free health screenings to the public. Eight UNCW senior nursing students, supervised by their professor Melissa Reedy, traveled to the Harrelson Center for the event.
At the event, individuals were able to have their blood pressure and glucose levels checked. Following the screenings, students would review the results with the individuals so they had a better understanding of their health. The senior nursing students came fully equipped to provide health education with simulations and displays, specifically in the areas of high blood pressure and diabetes.
These nurses-to-be were welcoming and excited at the opportunity to practice their skills and share their knowledge. In just a small window of time, around twenty people were screened. This successful event was mutually beneficial and continues to strengthen the partnership between Catholic Charities and UNCW.