Fayetteville Region: Parish Highlight Series
Support from local parishes is vital for Catholic Charities offices to meet the many and various needs of individuals and families within the Diocese of Raleigh. Each year, the staff at the Catholic Charities Office in Fayetteville witness the enthusiasm for helping others displayed by local parishes which supports them in providing high quality services to the community.
This week, we are featuring the incredible work of Good Shepherd Catholic Church and their local Knights of Columbus Council who have been incredible supporters of the Fayetteville Office.
---
St. Patrick Catholic Church: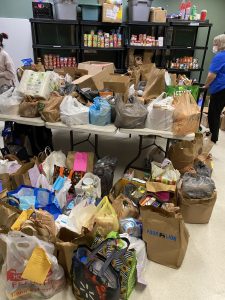 St. Patrick Catholic Church, which this year celebrates its 200th anniversary, has been a strong historical supporter of Catholic Charities.
"Together We Can" is the name of their weekly campaign advertised in their parish bulletin which invites parishioners to donate food items for the Catholic Charities Fayetteville food pantry.
According to Beth O'Leary, who is the coordinator of Family Life Ministry at St. Patrick Catholic Church, "Together We Can" is an opportunity to demonstrate that by working together as Catholics, they can provide support to those in need.
Despite the pandemic and quarantine last year, the church managed to collect 14,645 food items that went to the Catholic Charities food pantry.
"So far this year we've collected 3,249 food pantry items that we've already taken to Catholic Charities, including the food collected by the school, during Catholic School Week," commented O'Leary.
But collecting food items is not the only activity organized at St. Patrick. They also have unique ways to collect items needed by individuals and families at Catholic Charities. Each summer a group of parishioners decorate a Christmas tree to bring back the spirit of giving.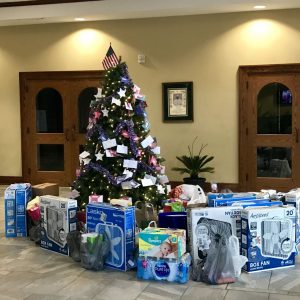 "Each July we put up a Christmas tree and decorate it with red, white, and blue and those items go to the seniors in the Fayetteville area." Shared O'Leary. The program is hosted in collaboration with partner organizations including Catholic Charities, Meals on Wheels, and the Fayetteville Urban Ministries.
Even through the pandemic, strong support from St. Patrick parishioners continued. "Last year, thanks to Christmas in July, we had 256 items that went to Catholic Charities." said O'Leary.
Support from St. Patrick parishioners carries over to the actual Christmas celebration as well through the Advent Tree Program. Last year, gifts donated by parishioners were directed to families who were being assisted by Catholic Charities.
"Each family member gets five items of whatever they are in need for." Shared O'Leary.
Lasty year, parishioners provided 140 gifts to twelve families referred by Catholic Charities.