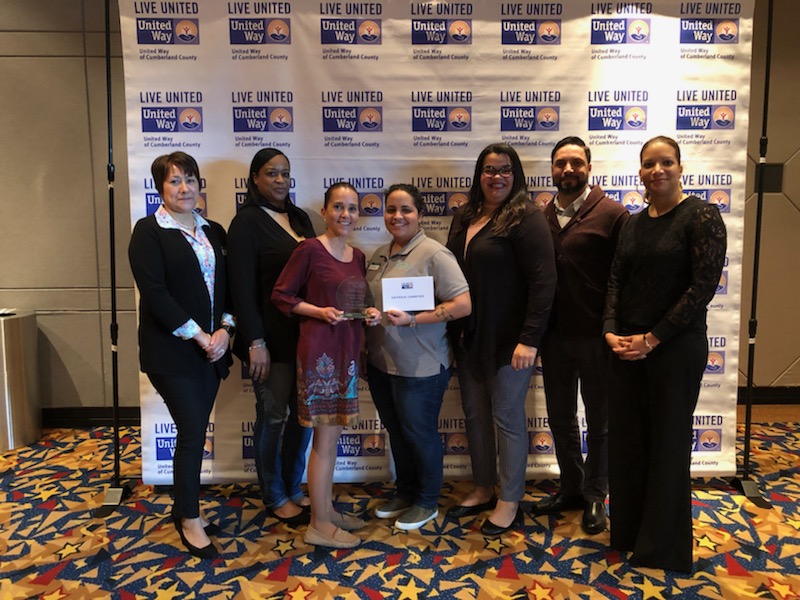 On Tuesday, February 26th, at the United Way of Cumberland County Annual Meeting, the Catholic Charities Fayetteville Office was recognized as the "Partner Agency of the Year." Catholic Charities was selected by the United Way leadership because they, "Demonstrated outstanding community work based on community impact and exemplifying United Way's mission to give, advocate and volunteer."
"We were all very surprised," shared Ms. Wanda Collazo, the Catholic Charities Fayetteville Regional Director. "I am very grateful, and I am very proud of my team and volunteers. This award demonstrates that all the hard work they put in is being recognized, which is always nice."
However, winning this award is something Collazo and the Fayetteville Office staff have experienced before. In 2017, the United Way of Cumberland County also named Catholic Charities as "Partner Agency of the Year."
The Catholic Charities office, which is composed of seven staff members, three interns, and approximately fifteen volunteers have worked hard for this recognition. Additionally, following Hurricanes Matthew and Florence, the Knights of Columbus rallied around Catholic Charities to help get supplies to families in need, increasing their impact on the community.
"I've never seen an agency win this award two times in such a short period," shared Collazo.
The Fayetteville Office has a strong disaster program which was an important part of Catholic Charities being named as the Partner of the Year. However, in addition to assisting in disaster relief and recovery, the office meets other critical needs in the community.
"We offer immigration services, clinical counseling services, emergency assistance through a food pantry and baby closet, tax assistance, case management and warm referrals to other community organizations for needs we cannot address," shared Collazo.
In her six years with Catholic Charities, Collazo has seen the office grow. One area of growth has been the clinical counseling services which provided services on a sliding fee scale to about 100 individuals last year, an all-time high for the office. Additionally, the capacity of the food pantry was recently expanded through a Food Pantry Makeover from Food Lion. This makeover installed industrial refrigerators and freezers, allowing for the distribution of fresh produce and meat.
The Fayetteville office remains dedicated to assisting Hurricane Florence survivors and is continually looking for ways to improve services to the community. For more information about the Fayetteville Office, please visit www.CatholicCharitiesRaleigh.org/Fayetteville.