It's 10:00 a.m. on Wednesday, the time when doors to the Durham Community Food Pantry open to the public. Inside, dozens of volunteers are eager to help families. Since opening in May, the Durham Community Food Pantry has increased access to healthy foods for hundreds of families in the area.
"Things are going very well at the DCFP! We have been serving an average of 70 families weekly and we served 104 families on our first day," said Elise Mudd, program director of the Durham Community Food Pantry. "In the first 5 weeks of operation, the DCFP distributed over 20,000 pounds of food to over 700 individuals. We were able to distribute so much food thanks to the help of the Food Bank of CENC and the Interfaith Food Shuttle," stated Mudd.
The new food pantry is unique due to its ability to connect families to other resources and programs offered by Catholic Charities, as well as other assistance offered by nearby agencies. The 7,400 sq. foot facility located at the Lakewood Shopping Center in central Durham has El Centro Hispano and the Scrap Exchange as neighbors. These organizations provide additional supportive services to families who visit the food pantry.
Inside, the shelves are filled with a variety of foods. The space has different groceries spread on tables and shelves; including meats, vegetables and non-perishable foods. Stacked in a separate section are the diapers and baby formula for families with infants. Clients face multiple challenges in providing for their families and the goal is to address some of these challenges.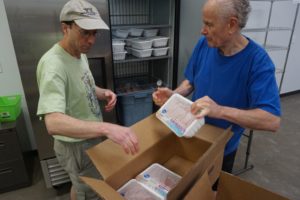 In the back of the building, volunteers are packing and distributing food. One of the volunteers is Jan Baric, a parishioner at St. Michael's Parish in Cary. Jan's husband was involved in establishing the Durham Community Food Pantry where she now volunteers. Jan shared, "I am very happy and honored to be here helping. It's very impressive to see how this project, that my husband helped to start five years ago, is a now reality, helping so many people."
Throughout the day carts full of groceries, including cookies and dessert, are shuttled out to clients' cars. You can see their faces of gratitude and happiness because now they have food to share with their families. As the morning turns to afternoon, the flow of people waiting to be served begins to decrease around 1:00 p.m. The last families are served and no one who arrived in search of food leaves empty handed.