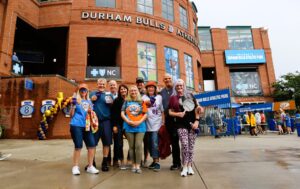 The Durham Bulls demonstrated their commitment to the community by partnering with Catholic Charities of the Diocese of Raleigh. In a generous initiative, the Bulls pledged to donate a portion of every ticket sold through a dedicated Catholic Charities link to the organization's Durham Community Food Pantry (DCFP).
On Friday, June 23, 2023, the Durham Bulls prepared to face off against the Syracuse Mets in a highly anticipated match. However, Mother Nature had different plans for the event, as a passing thunderstorm and accompanying drenching downpour delayed the game by more than an hour. Despite the initial setback, the dark clouds eventually gave way to a brilliant sky, creating the perfect backdrop for a fun-filled evening.
As the rain cleared, fans filled the stands in anticipation as the teams took their positions on the field at the ballpark.
Sue Williams, Program Director for the Durham Community Food Pantry shared, "This collaboration helped raise funds for DCFP, which at its core, translates into putting meals on the table for families in need. The partnership with the Bulls also brought together Catholic Charities volunteers, staff, and supporters to enjoy an exciting baseball game at the magnificent Durham Bulls Athletic Park. Much good for the community comes from the partnership with the Bulls."
Despite the Syracuse Mets prevailing over the Bulls with a final score of 5-3 Friday evening, the true winner of the evening was DCFP. Jeremy Ireland, Piedmont Regional Director stated, "At the Durham Community Food Pantry, we emphasize "community". The pantry would not exist without strong local support, and Durham does not disappoint. This was our fifth year partnering with the Durham Bulls to raise funds to provide a week's worth of groceries to those in need. We are grateful to everyone who came out in support of Catholic Charities. We partner with the Bulls once a year, but for anyone interested in giving us a hand year-round, the pantry relies on the generosity of people who donate food, funds, and time."