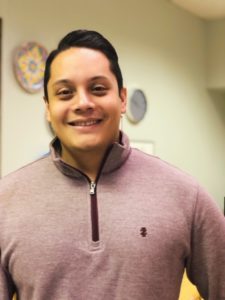 Catholic Charities of the Diocese of Raleigh recently named David Juarez Torres program director for the Durham Community Food Pantry.
David has a long history of supporting the mission of Catholic Charities. Nine years ago, he first started as an American Corps member serving in Centro La Comunidad, a Catholic Charities Hispanic family center in Burlington. Once he finished his internship in 2011, David was hired to be part of the Catholic Charities Hispanic family center in Raleigh, Centro Para Familias Hispanas, where he worked as a case management coordinator.
Since David is familiar with the mission and services provided by Catholic Charities, he is ready to start his new role in Durham. Since the Durham Community Food Pantry moved to its new home in the Lakewood Shopping Center in May, Catholic Charities has seen tremendous growth in the number of people it serves daily.
"One of my short-term goals will be to increase the number of days we are open, and increase the services we offer apart from the food pantry," said David.
David noted that one of the contributions he brings to this new role is the experience of working closely with the Catholic Charities Catholic Parish Outreach (CPO) Food Pantry in Raleigh. Catholic Parish Outreach and Centro para Familias Hispanas are co-located in the same facility, allowing for many opportunities for staff to collaborate and support each other.
"For many years, I have been watching and learning from the success of CPO in Raleigh and I think that experience will be very valuable in my new position," he explained.
David has a degree in Business Marketing and Economy, but his true passion is social service.
"During my years working at Centro para Familias Hispanas, I developed compassion and increased my desire to help other people," said David, who wants to continue his passion for service in Durham.
Now, David is ready for his new challenge. He is ready to start working with local churches and other organizations to increase donations and recruit more volunteers for the Durham Community Food Pantry.
"I know what I know, and I know what I don't know. I am going to observe first to establish priorities to better serve the community in Durham," concluded David.
For information on how to become a volunteer and other ways you can support the Durham Community Food Pantry, please visit www.CatholicCharitiesRaleigh.org/DCFP.