Late in the afternoon on Thursday December 22nd, just 3 days before Christmas, Catholic Charities staff were met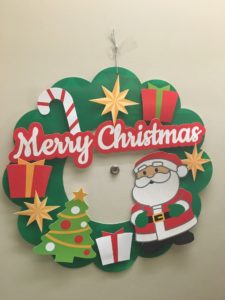 with a wonderful surprise. Like something out of a storybook, four boxes of pre-wrapped Christmas gifts were unexpectedly delivered without a note. With a little work, staff were able to track down the generous elves who put together this wonderful donation.
"I was surprised when the boxes were delivered," recalled Mr. Daniel Altenau, director of disaster services. "I didn't know what to expect opening the boxes and was immediately excited to see so many Christmas gifts."
Over the past few weeks, students from Christ the King Catholic School in Ft. Smith Arkansas gathered small toys and hygiene items, packed them in shoe boxes, and individually wrapped them. They put together over fifty Christmas boxes for Catholic Charities to distribute to families impacted by Hurricane Matthew.
"We are so grateful to the staff and students who put these gifts together at Christ the King," Mr. Altenau explained. "Their generosity really shows what the Christmas season is truly about."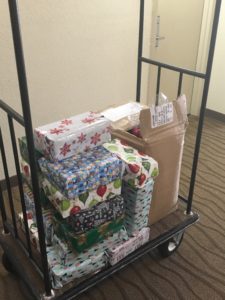 Catholic Charities staff were able to work with hurricane recovery case workers from Edgecombe County Emergency Management to identify a hotel where families were still living, nearly three months after Hurricane Matthew impacted the area. On Friday, December 23rd, Catholic Charities staff worked with employees from the Comfort Inn in Rocky Mount to distribute the gifts to families.
Ms. Lisa Perkins, Catholic Charities assistant director, helped hand out the gifts. "It was clear families were still trying to celebrate the holiday with paper wreaths hanging on their front door and small plastic trees in their rooms." Ms. Perkins shared. "When we showed up, families were so appreciative of the small gifts we had to give."
Room by room, children were excited to be receiving early Christmas presents which they couldn't wait to open. For these families, this last minute surprise helped to ease the stress they are still feeling from the effects of Hurricane Matthew.