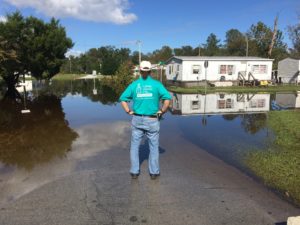 North Carolinians, including many within the boundaries of the Diocese of Raleigh, are feeling the devastating effects of Hurricane Matthew. The state reported 20 storm fatalities, more than 80,000 homes without power and 2,000 rescues as of Oct. 12.
And the situation could get worse before it gets better. Waters, such as the Neuse and Tar rivers, are forecasted to crest around Saturday, creating additional inland flooding that could be potentially record breaking.
Forty counties in the state, including every county in the diocese, are under a State of Emergency.
Relief efforts are underway with 44 shelters serving 3,528 residents. Estimates on the total number of people impacted are delayed as it is still an active emergency situation.
Catholic Charities of the Diocese of Raleigh joined emergency response efforts immediately following the devastation Hurricane Matthew left behind.
"We're responding from Windsor all the way down to Wilmington," Daniel Altenau, director of disaster services, said. "Catholic Charities is providing immediate assistance …  long-term, we're looking to provide re-sheltering services to help families."
At present, Catholic Charities offices around the state are mobilizing to deliver basic needs such as water, food and supplies.
The offices of Catholic Charities report:
Cape Fear Deanery
More than 135 individuals assisted
Thousands of diapers distributed
$500 in gift cards distributed
Non-perishable food items, bottled water, hygiene products and cleaning supplies distributed
Fayetteville Deanery
The Knights of Columbus Council from St. Elizabeth Ann Seton Parish in Fayetteville made a significant donation to the Catholic Charities Fayetteville, Newton Grove and Greenville offices, as well as to St. Francis de Sales Parish in Lumberton. In addition, a member of the same Council transported disaster food cards from Catholic Charities to the pastor of St. Francis de Sales in Lumberton in order to address immediate needs.
The Knights of Columbus Council from St. Patrick Parish, Fayetteville has provided funding that Catholic Charities is using to provide food for those in need.
Please continue to join Bishop Burbidge in prayer for those who have died, for those who have been displaced from their homes, and for all those who have been so severely impacted by the storm. Please also join Bishop Burbidge in offering prayerful support and gratitude for the first responders and the Catholic Charities staff and volunteers who are assisting those in need.