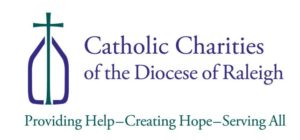 March 25, 2020
Dear Friends,
In just a short time, daily life has been disrupted by COVID-19, altering how we interact with our neighbors and how our churches, schools, and workplaces operate. During this unprecedented time, dedicated Catholic Charities staff and volunteers have been proud to continue serving the most vulnerable of our neighbors.
Last week, we issued a statement pledging to continue providing our much-needed services to the community as long as were able to do so in an environment which was safe for our volunteers, clients, and staff. As the situation developed, and North Carolina counties began to issue "stay-at-home" orders, we came to the decision to protect the safety of all involved by solely providing services that can be conducted via telephone. As a result, we will temporarily suspend all food pantry operations across the Diocese of Raleigh.
This decision was not made lightly. We felt that this step was necessary to allow agency leadership time to collaborate with community partners and medical professionals. Our goal is to evaluate current processes, implement new systems that ensure safe environments for all, closely monitor the developing COVID-19 situation, and reopen these vital services as soon as possible.
Catholic Charities will continue to distribute financial assistance over the phone in offices where this is an existing program. Any additional services that can be conducted remotely will also continue. We encourage you to check our website (www.CatholicCharitiesRaleigh.org/covid19) for a regional listing of available programs and services. The suspension of Catholic Charities food pantry services will not affect the operations of Oak City Cares.
Please know that Catholic Charities is immensely grateful for the ongoing support of the community and is honored to serve the people of central and eastern North Carolina. We ask that you continue to pray for the health of the afflicted, their families, and the healthcare professionals who care for them.
Sincerely,
Lisa Perkins
Executive Director