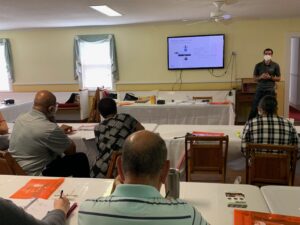 Two months into hurricane season, on July 21 and 22, over 30 individuals gathered in New Bern for two days to learn essential steps for conducting effective disaster case management following a storm. Co-hosted by Catholic Charities and the Craven County Disaster Recovery Alliance (CCDRA), the training worked to increase the resiliency of coastal communities and increase the speed with which they recover from storms. Participants traveled from nine counties including Beaufort, Brunswick, Columbus, Craven, Franklin, Onslow, Pitt, and Wake to attend the training.
"We are excited to be partnering with the CCDRA and the New Hope Village at Neuse Forest Presbyterian Church to make this event happen." shared Daniel Altenau, Director of Communications and Disaster Services for Catholic Charities of the Diocese of Raleigh. "In responding to Hurricane Matthew and Hurricane Florence, we learned a lot and are proud of the disaster case management services we offered. Now we want to share these best practices with others so our community can be better prepared to respond."
Navigating the recovery process can be complex and overwhelming for survivors, especially after experiencing a traumatic event like a disaster. Families often face barriers with understanding the proper steps for applying for FEMA assistance and gathering the required documentation, challenges which could result in a family missing out on thousands of dollars of available assistance.
Kristy Kulberg, Dir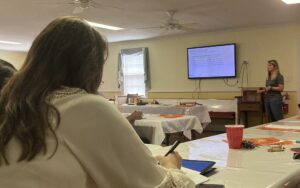 ector of Operations at CCDRA further emphasized the importance of the training by saying, "Part of CCDRA's mission is to make sure available resources get to those who suffer loss in a Hurricane who need it most. Important trainings like the one Catholic Charities provided, are essential to ensure people are ready to get out there and be active in our community's recovery. We can't provide a whole recovery for our community residents without the efforts of people like those who attended this training, nor can we ensure people are ready to respond if we don't have organizations like Catholic Charities getting this important information into the public."
Over two days, participants reviewed ten essential topics for conducting disaster case management.  Some of the sections included effectively assessing the needs of survivors, developing impactful recovery plans, and successfully advocating for available resources. Group activities integrated into the training provided participants hands on opportunities to practice what they learned before applying it in an active disaster environment.
To break up each day of learning, participants gathered to enjoy delicious meals which were made possible with the support of lunch sponsors La Casetta and Carolina Grill, with additional support from Publix.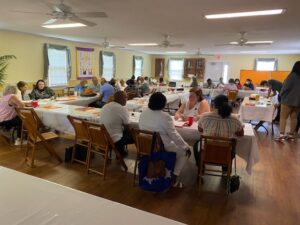 "We are grateful to the community for the support we received to make this training possible." shared Altenau. "We were able to offer this training free to all participants through a Volunteer Generation Fund grant from AmeriCorps and the North Carolina Commission on Volunteerism. Our goal is to have as many people as possible trained to assist with disaster case management for the next storm."