Four years after Hurricane Florence, many are still struggling with housing instability. In Wilmington, Aaron Etheridge lost his home and struggled to find resources that would get him back inside. Damage from the storm caused his roof to collapse and rendered the house unlivable. While he searched for ways to get back into his home, he spent many nights in his car or at a friend's house. It was an uncomfortable situation made worse by the fact that his rebuild was outside the capabilities of nonprofits in the area.
"My house was destroyed, and I had heard about Catholic Charities from my nephew. And he explained to me that I could get help from them," Etheridge said. "And they didn't drop the ball on me."
With the help of Catholic Charities, Mr. Etheridge applied for RebuildNC, a state funded program that provides assistance to repair, reconstruct, replace, or elevate a client home or reimburse them for completed repairs. Unfortunately, RebuildNC could not commit to replacing the house in a reasonable amount of time and the house would be condemned unless that commitment could be made by May 18th.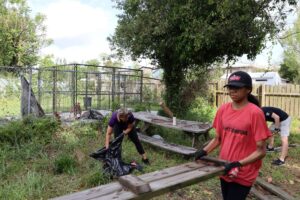 Becca Ward, Disaster Case Manager at the Cape Fear office, shared "We heard that the county was going to condemn his house, and he's been a county employee for 30 years. So, when we heard about it, we felt that we had to do something." Working with the County, and the Disaster Recovery Act (DRA), Catholic Charities was able to get that commitment from the DRA if Mr. Etheridge completed a DRA application.
"We went through the process with him, helped him gather all the documentation, and helped him apply," Becca noted. They completed the application before the May 18th deadline and avoided condemnation of his home. The DRA committed to the rebuild, and Mr. Etheridge withdrew from RebuildNC.
Over 10 months, DRA rebuilt Mr. Etheridge's house. In addition, Catholic Charities, with the help of volunteers, cleared Mr. Etheridge's yard of debris and removed downed trees from the property.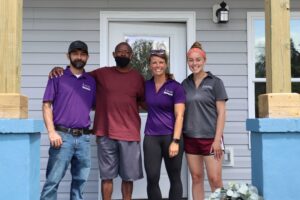 Speaking on the day Mr. Etheridge received his key, Ward stated, "It feels great. I mean, we've spent hours on the phone with him, advocating for him, knowing this day was coming and trying to encourage him. So, it's a really good day to see him here at the end, moving back into his house."
"When I reached out to Catholic Charities, I wanted them to know the devastation I had, and not just me, but other people in Wilmington. I was looking for somebody to have an ear and understand my story. And they had an ear, and they listened to me."