The Catholic Charities Cape Fear Regional Office food pantry is undergoing a special type of makeover this month focused on improving the food that is distributed.
"Health and poverty are inextricably linked," shared Emilie Hart, Cape Fear Regional Director. "We see the snowball effects of this every day."
Food insecurity is a key factor in chronic diseases. At Catholic Charities, 37% of the clients served have someone in their household with diabetes and 69% have someone with high blood pressure.  To address the connection between hunger and poor health outcomes, the Food Bank of Central and Eastern NC has adopted a Healthy Pantry program. As this program is started, Catholic Charities was selected as a partner in improving the health of the community.
Making the choice to become a Healthy Pantry was an easy one for the Cape Fear office.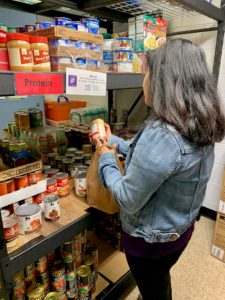 "We know that facing food insecurity is a huge stressor for individuals and families," shared Hart. "This often leads to unhealthy coping skills, like eating from the dollar menu at a fast food restaurant."
The trickle-down effects from the stress for families can feel insurmountable at times. It can lead to chronic disease, healthcare expenditures, difficulty finding employment, and spending tradeoffs.
While the decision to change was easy, the process to become a Health Pantry took some work. Catholic Charities staff and volunteers were trained by the Food Bank's nutrition education team to ensure the program is implemented properly. Upon completion of the training, Catholic Charities received signage, posters, and specific tools for making the Healthy Pantry a success. The Food Bank will be providing ongoing support and resources to ensure success for the team. Additionally, the Food Bank will give priority for certain capacity increasing opportunities to Healthy Pantries such as the one at Catholic Charities, encouraging continued growth.
A Healthy Food Pantry supports the well-being of clients by combining a nutritious selection of groceries with educational opportunities.  A nutrition resource bulletin board now sits in the Catholic Charities office and promotes available healthy food items to guide clients as they make their selections. This process empowers clients to actively make healthy decisions about the food they are selecting.  This "client choice" approach respects the dignity of families and allows them to choose what they need based on family allergies, dietary needs, beliefs, culture, likes and dislikes and cooking equipment limitations.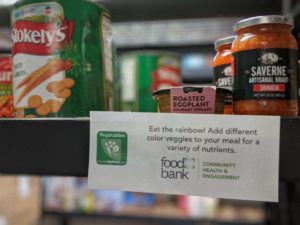 Staff and volunteers will also have to change some of the ways they source food. They will follow Feeding America's "foods to encourage" guide when soliciting food donations and shopping.
"We want to start carrying items like frozen vegetables, lean meats, and 100% whole grain items," shared Hart. "Obviously we won't be able to do away with canned goods completely, but we can be mindful about what we ask people to donate and educate clients that rinsing canned veggies and beans can reduce their sodium intake by 40%.  "
Families will also have access to healthy recipes, nutritional education, taste testing events and cooking demonstrations provided by staff and volunteers.
"These opportunities will be shared in a fun and interactive way," share Hart. "This will allow us to engage with families while exploring new foods, offer health and nutrition information, and promote healthier lifestyles."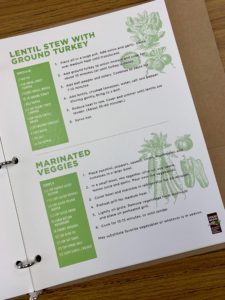 Other benefits of these demonstrations and taste tests include allowing clients to try new foods without using their monthly food budget, encouraging healthy food preparation, increasing confidence in cooking skills and reducing food inventory waste.
This small, but important step, will have a big impact in ending food insecurity in the Cape Fear community.
Hart is now looking to the future, "We're excited to see the program grow over the coming months and we are excited to start seeing healthier outcomes for all of our pantry visitors!"
The following donations are now needed to support the Healthy Pantry model: Oatmeal, whole wheat pasta, brown rice, whole grain cereal, canned chicken, no salt added veggies, fruit canned in 100% juice, low sodium pasta sauce, low sodium soups, no sugar added apple sauce, shelf stable soy milk, and shelf stable low fat milk.