On Thursday, October 30, Catholic Charities honored Alice Sontag with the 2014 John J. Carey Award for Outstanding Contribution to Charity and Social Outreach Ministry.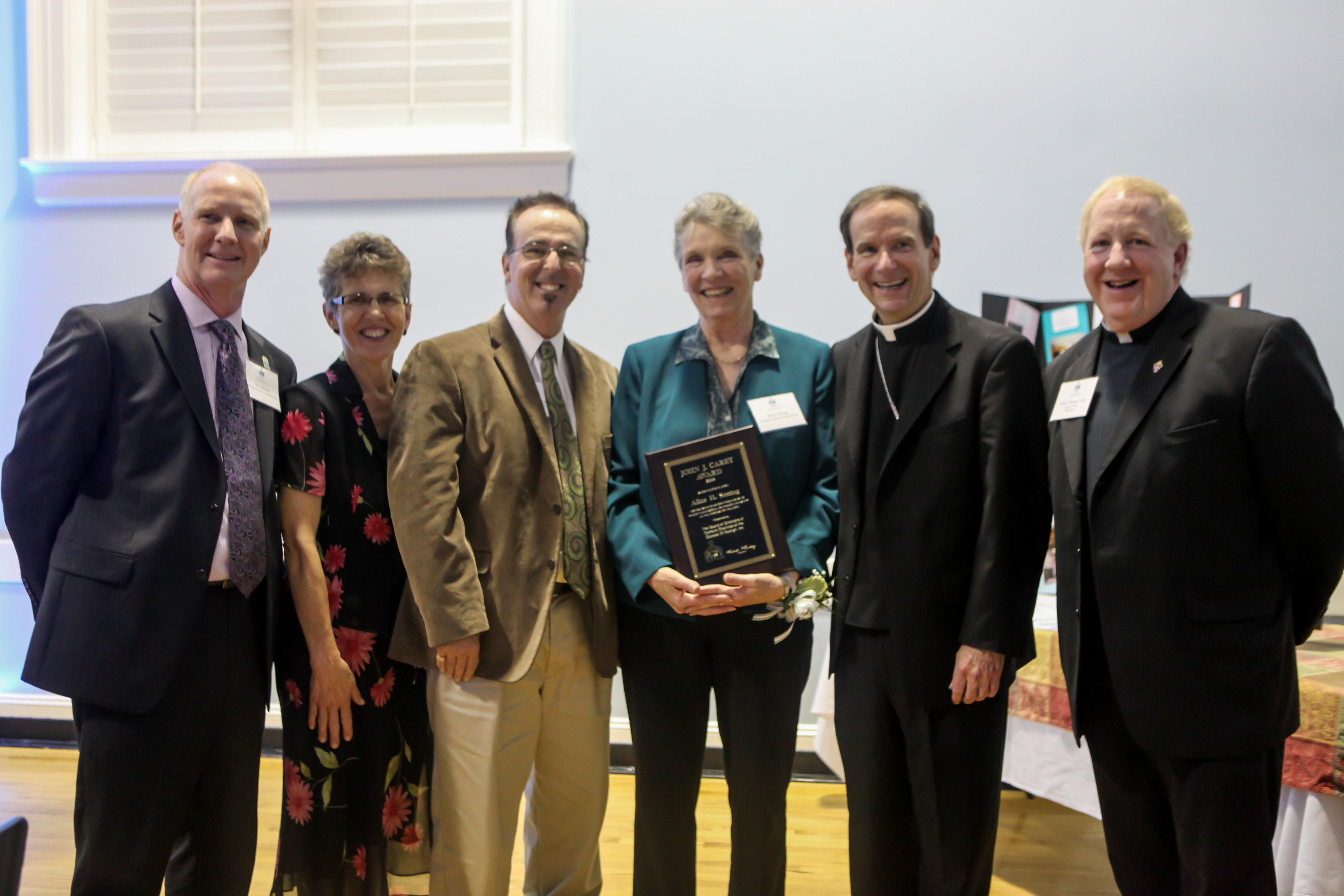 A retired teacher, Ms. Sontag is a member of Saint Peter the Fisherman Mission in Oriental.
Gary Skinner, executive director of Catholic Charities, presented the award at the Community Partners Recognition Dinner at Saint Michael's Parish Center in Cary.
He spoke about Ms. Sontag's work on the pastoral council, building committee and fundraising committee at her parish. He noted that she once noticed that a local food pantry was in need of assistance. "She said, 'I can do that' and she began to do it … she went on her own to keep the work going," Mr. Skinner said.
When Saint Peter Mission was built nine years ago, it included a food closet for the poor. Because of Ms. Sontag's work, Mr. Skinner said, the closet became a room and, then, the room became a full distribution center. Eventually a connection was made with the Food Bank of Central and Eastern North Carolina.
"Fishes and Loaves Food Pantry serves 600 households each month … because of Fishes and Loves and the effort of Alice Sontag, the needy people in Pamlico County are fed seven days a week, which is remarkable," Mr. Skinner said.
Upon accepting her award, Ms. Sontag said she was just one person in a large effort. "We have a wonderful interdenominational effort … my wonderful friend and mentor Msgr. Lewis encouraged this for me," she said. "I give thanks to so many people and to the Lord who brought me to Pamlico County."
The award, which was initiated in 1989, is given to a Catholic individual within the diocese for direct personal volunteer efforts to serve the poor, marginalized and vulnerable. The award is named after John J. Carey, who was the first director of Catholic Social Ministries, which later became Catholic Charities.