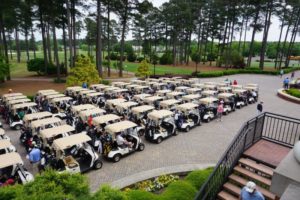 The air was crisp. The sun was shining. It was a perfect day for golf.
On Monday, April 29th, over 160 golfers supported the 2nd Annual Catholic Charities Drive Out Hunger Golf Outing at Prestonwood Country Club in Cary. Proceeds from the Drive Out Hunger Golf Outing will benefit the six Catholic Charities food pantries throughout the Diocese of Raleigh.
"Being able to share in a nutritious meal is such a basic need that eve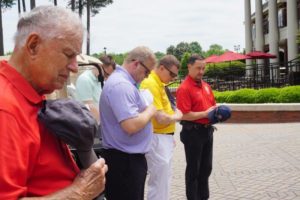 ry family should have met," shared Ms. Lisa Perkins, Executive Director. "We are grateful to everyone who came out today to show their support for our work."
Mr. Terry Shackleton, Chair of the Catholic Charities Board of Directors, opened the day by sharing a warm welcome and wishing the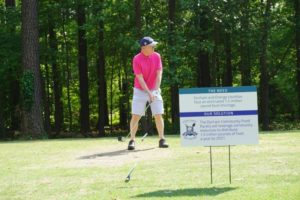 golfers good luck on the course. Rev. Msgr. David Brockman then offered a prayer for the event, offering thanks for the gift of Catholic Charities' service to the community, and asking a blessing on all participants as they headed out for the day.
Following the opening remarks, forty golf carts paraded out to their assigned holes across the Meadows and Highlands courses. While on the course, participants were able to take in beautiful views of the fairways intertwined with lakes spread throughout property.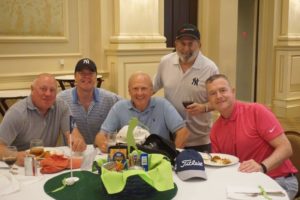 Upon conclusion of their round, golfers were treated to pulled pork, chicken, green beans, and bundtini desserts to celebrate a successful day on the links.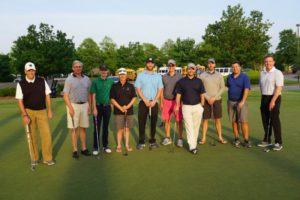 In addition to the on-course award winners, silent auction winners were able to walk away with a Dabo Swinney Autographed National Championship Football, a foursome to play at TPC Wakefield Plantation, a signed photo of Carolina Hurricanes Goalie Curtis McElhinney, who made his first start of the 2019 NHL Playoffs just the night before, and many other wonderful prizes.
The success of the Drive Out Hunger Golf Outing will help the Catholic Charities food pantries continue to distribute approximately 3 million pounds of food each year, making Catholic Charities the largest provider of food in eastern North Carolina.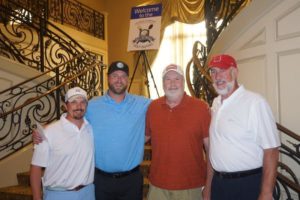 In only a few weeks, Catholic Charities will be expanding their capacity to bring food to families in need with the opening of the Durham Community Food Pantry and Reverend Joseph G. Vetter Family Enrichment Center. Currently, Durham and Orange counties face a 1.5 million-pound annual food shortage. By 2021, this new facility, located at the Lakewood Shopping Center, hopes to address this food shortage by distributing 1.5 million-pounds of food each year.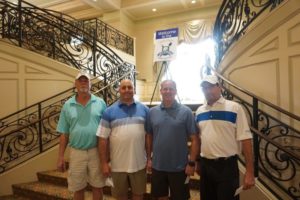 "We are excited about opening this new facility," shared Elise Mudd, Program Director. "Funds raised today will help us in our mission to end food insecurity in Durham and Orange counties."